Google Maps And Search Serve Up New Features In Time For The Holidays
With the holidays soon approaching, retail outlets and food establishments — whether online or in person — are ramping up their efforts to get consumers excited for the days to come. Google is no different in this regard and has been hard at work preparing new features for its various platforms in preparation for the food and shopping festivities. In September, we saw the tech giant launch a host of new shopping tools and features in Search and Google to help buyers get a better idea of what they're getting, more easily find the products they're looking for, and know that the price they're getting is actually a deal. 
From 3D sneaker previews to the impressive "Shop the look" that helps assemble outfits based on a selection of clothing, it's clear Google is getting into the holiday spirit in its own way. Software smarts are basically Google's main "thing" at the moment, and some nifty, new shopping features launching today in preparation for the 2022 holiday season expand on the aforementioned shopping features while some new ones accommodate a wider range of consumers. 
Find EV chargers and avoid crowds with Maps and Search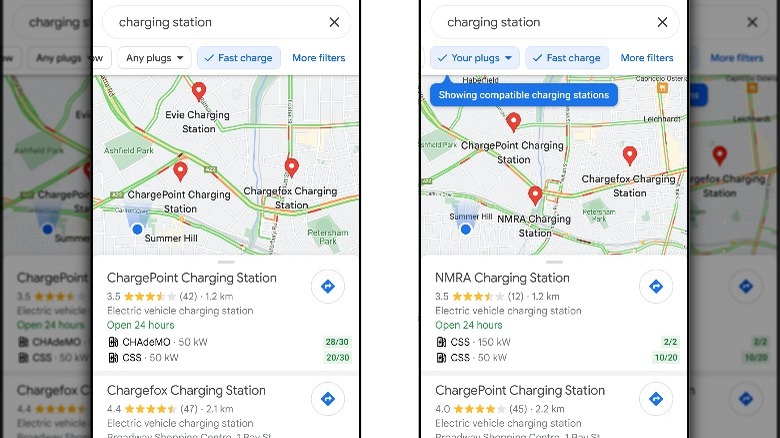 Google
Starting with Maps, Google is starting to roll out Live View, which it previously announced, in a handful of cities. Live View uses your phone's camera in combination with Google's AI chops to provide you with a turn-by-turn navigation overlay when you hold your phone up while the feature is active. Maps will now also help you find a compatible charger for your electric vehicle, handy for long road trips to visit family in places that may have changed since your last visit. Maps is also expanding its accessible places feature to show wheelchair-accessible businesses globally, where it was previously only available in select countries. 
If you can't make it to the stores, or you simply want to avoid the inevitable crowding, Google also added some handy augmented-reality features to Search to help shoppers visualize how their purchases look in real life. Google already offers AR-enabled features that allow you to virtually "try on" beauty products using your phone's camera. Similarly to how Real Tone helps capture a variety of skin tones, Google is using similar principles power an AR feature in Search to help beauty shoppers take the guesswork out of matching a foundation to their skin tone, allowing users to see what the selected foundation will look like on a model with a similar skin tone. 
Use your phone to hunt down your favorite festive food
Holidays are a time of comfort food and special meals, and Google's expansion to multisearch on Search and Lens is designed to help shoppers find and enjoy their favorite meals. According to a blog post announcing the features, you can now use Lens to search for specific foods using a picture or a screenshot of the meal, helpful if you see or eat something delicious but have no idea what it is. Adding "near me" to the Google Lens search will predictably show you what the meal is and where you can get it in your area. 
Similar to the Lens features Google is adding, Search will now give you more information about a dish you are looking for. Searching for a dish will now tell you which nearby restaurants have it on the menu, what it costs, and what the ingredients are — perfect for those of us who have specific comfort foods. The new foodie features added to Lens and Search are only available in the U.S., and in English, starting today, although if the expansion of the aforementioned shopping features is anything to go by, availability should expand in the future.