1&1 SmartPad Android tablet drops in Germany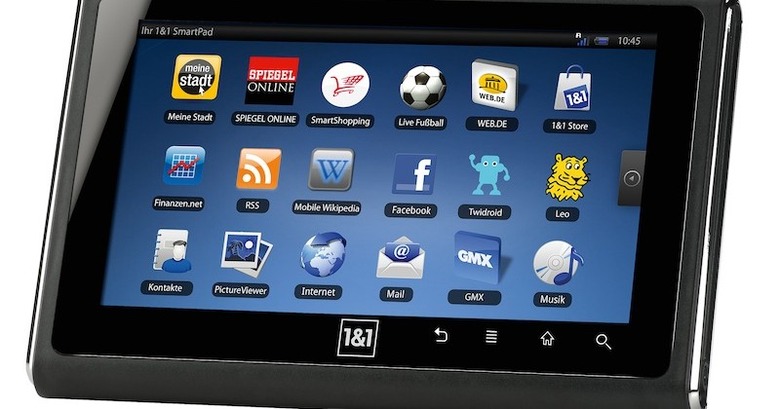 German internet provider 1&1 has outed a new Android-based tablet for its home subscribers, a 7-inch touchscreen slate with WiFi b/g/n and the ability to use a USB 3G modem.  The 1&1 SmartPad will come preconfigured with various Android apps, including a digital photo frame viewer, ebook reader and weather widgets, and be sold alongside an optional dock with a remote control and subwoofer.
Exact hardware specifications for the SmartPad are unknown, though it does have an SD card reader – a 2GB card is supplied – and of course the USB Host port.  It's also unclear what version of Android the tablet uses; 1&1's screen images are mock-ups, but going by the presence of the App Drawer icon we're guessing it's not the latest 2.1 or 2.2 builds.
The Android tablet will be offered to new 1&1 DSL subscribers as a perk of their broadband package; existing subscribers will also be allowed to purchase it, though the company hasn't confirmed pricing as yet.  It'll arrive in July 2010.
Update: mobiFlip.de say the SmartPad runs a 500MHz ARM11 processor with 256MB RAM/1GB ROM and Android 1.6.  An update to 2.2 is tipped for September 2010, but there's no Android Market access; instead you get a proprietary app store with just 100 titles in it.
[via the::unwired]