Google Says Nest Wifi Pro Bug Fix Is Only Days Away
Google
On October 4, Google took the wraps off its latest IoT products, including the Nest Wifi Pro. The model — which looks nothing like most Wi-Fi routers — is pretty pricey at $200, but the cost may be worth it for those who are all-in on the Nest ecosystem and who want a mesh networking setup. Why? The model packs Wi-Fi 6E, which builds upon 802.11ax connectivity to offer consumers access to the 6 GHz band. As a result, the router is essentially future-proof and also boasts better performance (via Intel).
In light of that combination of performance promises and high price tag, it's not surprising that some buyers were frustrated upon experiencing a bug that, in select cases, was limiting the Nest Wifi Pro to speeds of only around 50 Mbps (via Google Nest Community), which is considerably slower than what one would expect from a Wi-Fi 6E device — in fact, for many consumers, it may have represented a downgrade compared to the hardware they were using before buying Google's new mesh network system. Fortunately, it seems the company has heard those lamentations and is quickly working on a bug fix.
The slow Nest Wifi Pro may be related to DSL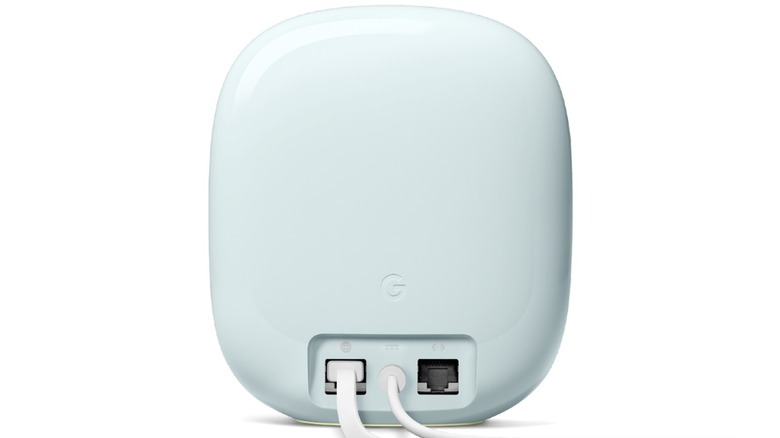 Google
Not every Nest Wifi Pro owner has reported issues with internet speeds, and Google told The Verge that only a small percentage of its users were impacted by this problem. Even better, the spokesperson said that Google is working on a bug fix for the issue and that it will start rolling out to customers early next week — whether that means Monday is unclear, but regardless, it sounds like it is only days away.
In fact, according to the statement given to The Verge, it seems like users in the U.K. were more likely to be impacted by this bug than users in the United States. That's because the bug may be related to point-to-point protocol over ethernet (PPPoE), which is commonly used by DSL service providers in the United Kingdom — though, of course, DSL is still a thing in many other places, as well, and those users may be just as likely to experience the bug.
Google didn't get into specifics about why these slow speeds are happening, leaving one to infer what they can from the information that was provided. Meanwhile, if you have a non-Pro Google Nest Wifi mesh network router that is experiencing slow speeds, the company has a support document with potential solutions.