This Custom Porsche 911 Off-Roader Is A Volcano-Storming Dream Machine
"Porsche 911 off-roader."
Sit with that phrase for a second. Really turn it over in your mind.
It doesn't sound like a real thing, does it? If we at SlashGear were to tell you that a custom Porsche 911 was about to slash the frozen slopes of the highest volcano in the whole world, you'd be forgiven for thinking we'd changed business models from "tech and auto news" to "stream of consciousness from an excitable 8 year old." It just sounds like fantasy.
It is. There isn't a Porsche 911 burning holes in the Chilean permafrost under the lowering brows of a flaming mountain. That would be silly. There are two of them.
Porsche has tricked out two top-of-the-line 911s with the guts and gear necessary to tackle Nevado Ojos del Salado, a vast complex volcano on the Chile-Argentina border. In fairness, the volcano hasn't erupted since 750 CE. Technically it did put out a massive blast of superheated steam in the 90s, but that was a while ago ... sort of.
But seriously folks, what exactly is going on here?
Just crazy enough to work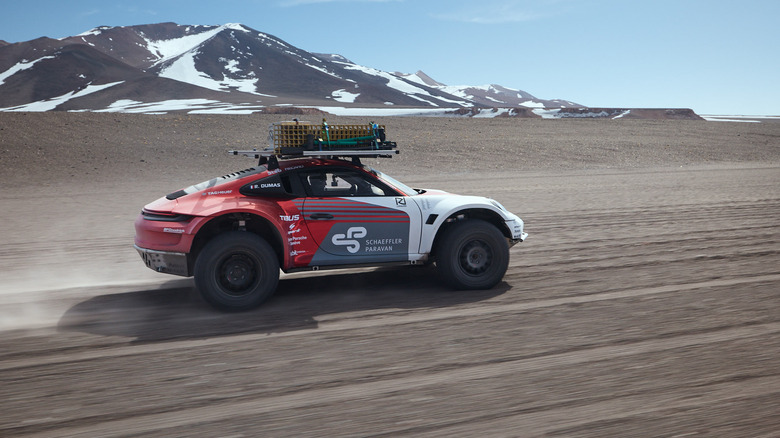 Fundamentally, Porsche wants to prove the 911 can do more than look pretty and cruise the Autobahn. In characteristic Porsche fashion, it spent a great deal of money and hired the best people in the world to achieve a deeply improbable engineering success.
Every good project starts with a team. Porsche tapped Romain Dumas to lead. The French driver is both a highly successful endurance racer and a serious name in rally driving. In his own words, "Endurance races are my profession; hill climbs and rallies are my hobbies. All of it combined is my passion." Given he's good enough at his "hobbies" to hold the hill climb record at Goodwood and a 2017 win in his class at the Monte Carlo Rally (via Porsche Motorsport), Dumas certainly seems to have the skills required for the stunt. He's also been a Porsche test driver since 2004. 
No motoring challenge can be conquered without the right ride, however. Porsche has put everything it has into remaking its iconic sports car into a snarling off-road beast. Chief Engineer Michael Rösler noted the 911 made a surprisingly good base for a bouncy rally-style ride, given the short wheelbase, tough but light construction, and relentlessly reliable flat-six. Per Porsche's newsroom, Rösler and his crew specced up the 911s from standard with roll cages, harnesses, Aramid underbody coating (via Merriam-Webster), and heavy portal axles with massive off-road tires.
As for the journey up Ojos de Salade itself? The first test is complete, but similar ventures may be coming in the future. We'll let Porsche do its own talking:
Eight-year-olds grow up. Sometimes, they get the chance to make toybox fantasies real.