Devialet Mania Speaker Boasts 360-Degree Audio In A Portable Package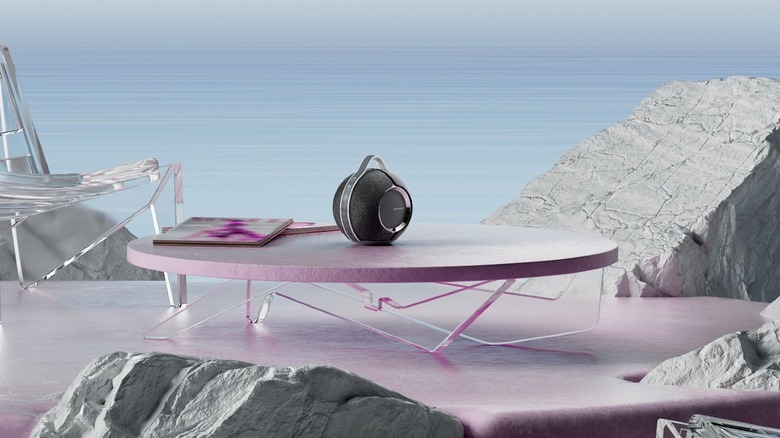 Devialet
High-end French audio company Devialet has announced a new portable speaker called Mania, which is a name that doesn't seem to match the model's elegant design. The portable smart speaker may appear excessively round at first glance, but its spherical nature is there for a good reason: Devialet Mania delivers 360-degree audio, meaning everyone nearby will be able to hear the music, and it does so with a measure of intelligence not found in many competing models.
This is the latest in a long line of notable audio products from Devialet, which released its Dione soundbar earlier this year. The latter model packs more than a dozen full-range speakers and subwoofers, and its biggest bragging point is that it doesn't require the buyer to add an external subwoofer to their home entertainment setup. The only downside to the Dione is its massive $2,400 price tag — and in light of that, you may be wondering whether Mania is similarly expensive. The answer is yes, very much so.
A $790 speaker promising some impressive features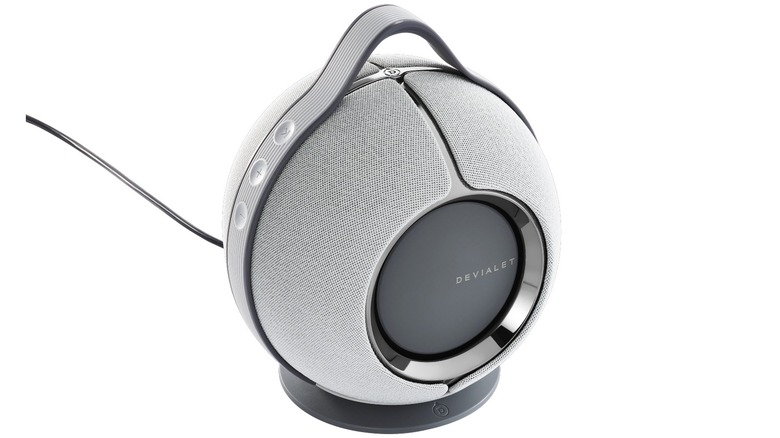 Devialet
Devialet boasts something of a milestone with Mania, explaining that this marks the first time the company's engineers have packed 360-degree audio into a speaker this small. The combination is, the company claims, a portable speaker that is capable of providing a high-end audio experience. At the heart of this ability are two proprietary technologies. One is called Active Stereo Calibration (ASC), which taps four microphones, among other things, to ensure the audio playback is adapted to the room in which the speaker is placed.
The second is a pair of Speaker Active Matching (SAM)-powered subwoofers, which exist alongside four full-range drivers. The speaker boasts a frequency range of 30Hz to 20,000Hz, plus it includes Alexa built-in, Bluetooth 5.0, Wi-Fi, Airplay 2, Spotify Connect, and an optional docking station priced at $80. Buyers who want the speaker to be a centerpiece in their home can opt for the Opéra de Paris Edition, a variant of the smart speaker that includes 24-carat moongold (plus the docking station is bundled).
Rounding out the Mania specs sheet is 10 hours of battery life, assuming the volume is kept in the medium range, as well as an IPX4 water resistance rating, capacitive buttons, and a companion mobile app. The Devialet Mania portable smart speaker will be available starting on November 7 for $790, while the Opéra de Paris edition will run $990.