Here's Why Elon Musk's Twitter Takeover Is Big News For Crypto Investors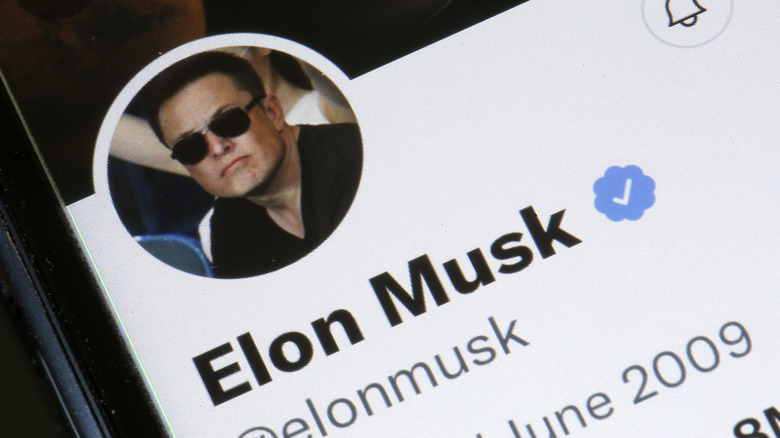 Chesnot/Getty Images
Elon Musk's flirtations with cryptocurrency are well known. And now that he is Lord of Twitter, he just might integrate some elements of it at the heart of the platform — thanks to financing worth half a billion dollars from the world's biggest cryptocurrency exchange. But even before shelling out $44 billon for Twitter, Musk was dreaming about creating his very own social media platform that would be built upon blockchain tech and facilitate cryptocurrency transactions.
The revelations came as part of message exchanges that were uncovered in the messy back-and-forth legal battle between Musk and Twitter. "I think a new social media company is needed that is based on a blockchain and includes payments," Musk wrote in one of his messages to his brother, Kimbal Musk.
Plus, there were a bunch other investors and silicon valley figures in his conversations known for their firm belief in crypto, blockchain, Web3, and other adjacent fields. Twitter's dance with the world of crypto is official now. Binance chief Changpeng Zhao has confirmed that his company has poured $500 million as a financial backer to help Elon Musk pay for his Twitter purchase.
"We aim to play a role in bringing social media and Web3 together in order to broaden the use and adoption of crypto and blockchain technology," a Binance spokesperson was quoted as saying in a Bloomberg report. Interestingly, the spokesperson expressed possibility that the company might further boost its investment portfolio in Twitter.
Twitter might herald a new age of crypto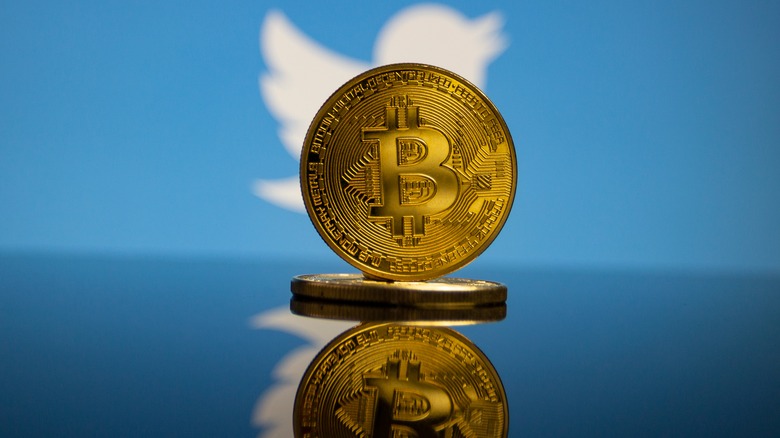 Rcc_Btn/Shutterstock
Per a Reuters report, Binance is putting together a team that will work on developing ways to leverage blockchain and cryptocurrency for Twitter's growth. The team will reportedly explore blockchain-based solutions to solve Twitter's bot problem, which vexed Musk to such an extent that he threatened to cancel the acquisition deal. 
Our intern says we wired the $500 million 2 days ago, probably just as I was being asked about Elon/Twitter. https://t.co/gM65GHUnZC

— CZ 🔶 Binance (@cz_binance) October 28, 2022
With Binance entering the Twitter picture officially, it is not hard to imagine that Twitter will actively explore these technologies under Musk's rule as "chief twit." Musk has previously floated ideas like monetizing tweets, and crypto just might prove to the secret sauce in Musk's plans to make money from Twitter and revive the platform's dwindling financial fortunes. And given Musk's influence, crypto investors will jump on any opportunity to make a bank with Musk at Twitter's helm.
Twitter, however, is no stranger to crypto and blockchain tech, at least internally. The platform already developed ways for users to flaunt their NFTs with custom profile pictures, and even enabled tipping with Bitcoin. In 2021, Twitter announced that it was putting together a team focused on blockchain, cryptocurrencies, and other applications of decentralised tech, roping in Tess Rinearson to lead the team.
Twitter's former CEO Jack Dorsey is publicly bullish on both blockchain and cryptocurrency, and he currently has millions of dollars hedged on these segments at the companies he is leading. Interestingly, Dorsey is also said to be the architect behind roping in Musk to buy Twitter.