Apple Has Another New Dongle You Don't Want But Might Need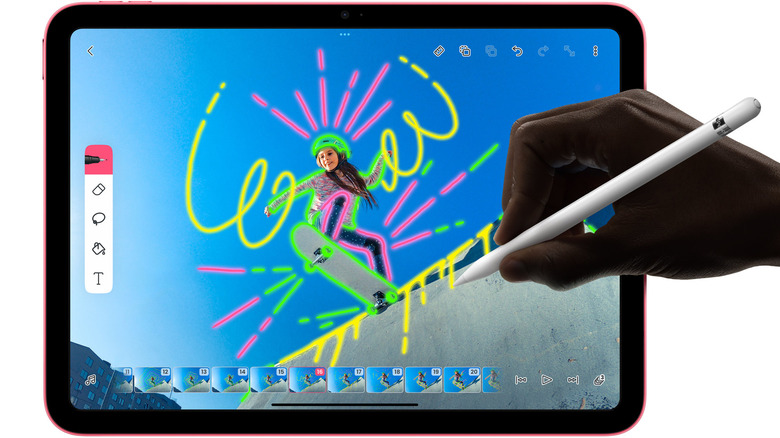 Apple
Tucked amidst the news of Apple's M2-powered iPad Pro being made official was an announcement for the next generation of iPad — the non-Pro model, that is. And while the new 10th-generation iPad doesn't offer the same performance as the new iPad Pro (it uses an A14 Bionic chip instead of the M2), it does do a few things differently compared to the previous model.
The 10.9-inch Retina display reaches all the way out to the edge for the maximum amount of possible viewing area, and it can both take and edit movies in 4K thanks to its 12MP wide rear-facing camera and A14 Bionic processing power, respectively. And, of course, it's compatible with the Apple Pencil, though there's a pretty big catch. This brings us to Apple's new dongle: the USB-C to Apple Pencil Adapter. It's intended to let you pair your Apple Pencil with your new iPad, but there are some very specific reasons why it's necessary.
Why you may need a new dongle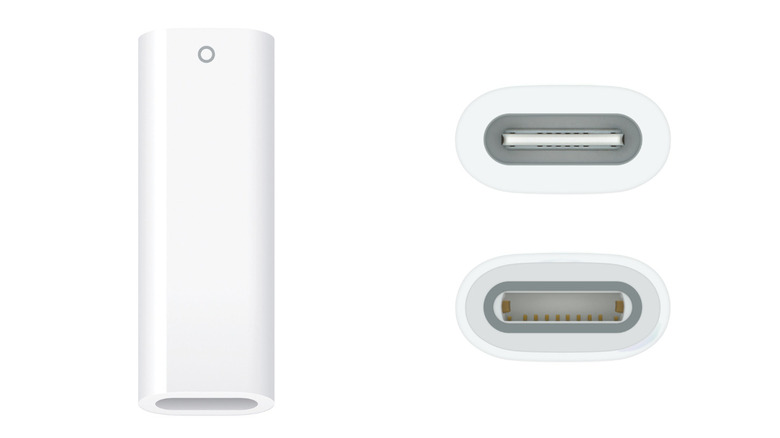 Apple
What it comes down to is that, while the new base-tier iPad can connect to the original Apple Pencil as seamlessly as the previous iPad model, it can't do so without the use of a new dongle — that, fortunately, is quite cheap. You'll need to get ahold of the USB-C to Apple Pencil Adapter, connect one end to the iPad's pack-in USB-C charging cable, and then attach the Apple Pencil to the other end. And you'll need to do this to both charge and pair the two devices.
The new iPad does not support the Apple Pencil 2, but helping ease that blow is the fact that the dongle isn't as pricey as other official Apple accessories with a retail price of just $9.00. That's a good thing not only from a budget point of view but also because you're going to have to carry around another dongle that will probably end up lost at some point. It's unfortunate that the new iPad can't simply connect with the older Apple Pencil model out of the box, certainly, but at least it won't be too difficult (or expensive) to add that functionality on your own.