Apple Music's Spatial Audio Is Coming To These Five Mercedes-Benz Models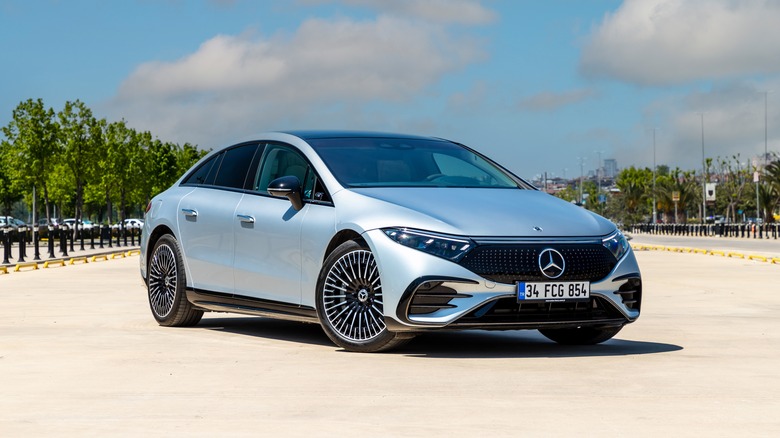 emirhankaramuk/Shutterstock
It's been a little over a year since Apple brought Spatial Audio to Apple Music. The feature, which was announced alongside support for lossless audio back in May 2021, began rolling out to Apple Music subscribers a month later. For the uninitiated, Apple's Spatial Audio feature builds upon the capabilities of an already proven technology — Dolby Atmos — but adds a couple of Apple-specific extras to the mix. The feature uses various sensors placed inside Apple's audio products to track the listeners' head movements to create a virtual space around them. These sensors, which include accelerometers, track the listeners' head movements and adjust the audio playback accordingly, providing them with an immersive listening experience.
Even before the feature officially rolled out to Apple hardware, Apple started enabling (via Apple Fandom) the feature via software on several Apple devices — beginning with iOS 14 back in 2020. The AirPods Max were added to the list of supported devices in December 2020. When Apple released macOS 11.4 (Big Sur) in May 2021, the feature arrived on Macs as well. Until recently, Apple's Spatial Audio only worked with a handful of Apple devices — including the HomePod Speaker, Apple TV, and AirPods. The last Apple hardware to support Spatial Audio was the third-generation AirPods that the company released in October 2021. Starting today, however, the feature has started rolling out to a handful of luxury vehicles from Mercedes-Benz.
Mercedes-Benz cars that support Spatial Audio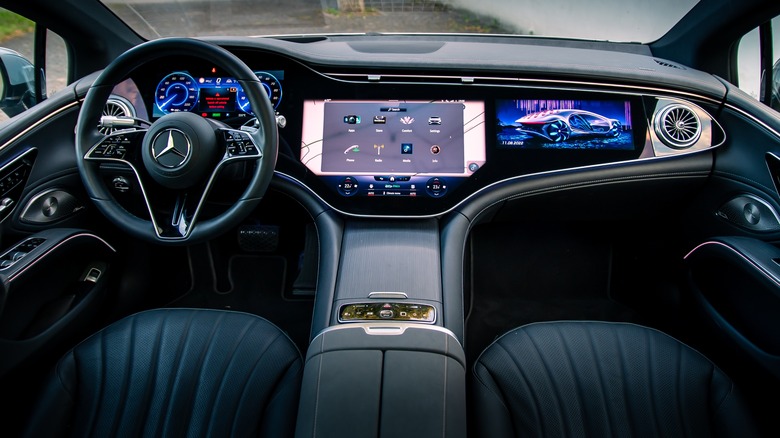 Gabriel Nica/Shutterstock
In a press release, Apple confirmed the car models from Mercedes-Benz that now support Spatial Audio. These include the Mercedes-Benz EQS liftback, the EQS SUV, and the EQE sedan. In addition to these EVs, the feature also makes it to a handful of luxury sedans from the Mercedes-Benz S-Class and Maybach lineup. Apple's press release also confirmed that one of the first cars to get Spatial Audio was the limited edition Mercedes-Maybach by Virgil Abloh – launched last month. This car was particularly notable for its 31-speaker audio system that includes six 3D speakers on its ceiling, four speakers close to the front seats' ear levels, a massive 18.5-liter subwoofer, and four sound transducers for each seat. All these speakers came powered by twin amplifiers drawing 1,750 watts of power.
In addition to the Mercedes-Benz models mentioned in the initial list, Apple confirmed that the Spatial Audio feature would be rolled out to other models in the future. Apple says that the Spatial Audio feature is fully integrated into these vehicles via Mercedes' MBUX infotainment system. Mercedes-Benz owners who own any of the aforementioned cars and have already subscribed to Apple Music can start enjoying the Spatial Audio feature in their vehicle right away.