USB4 2.0: Everything You Need To Know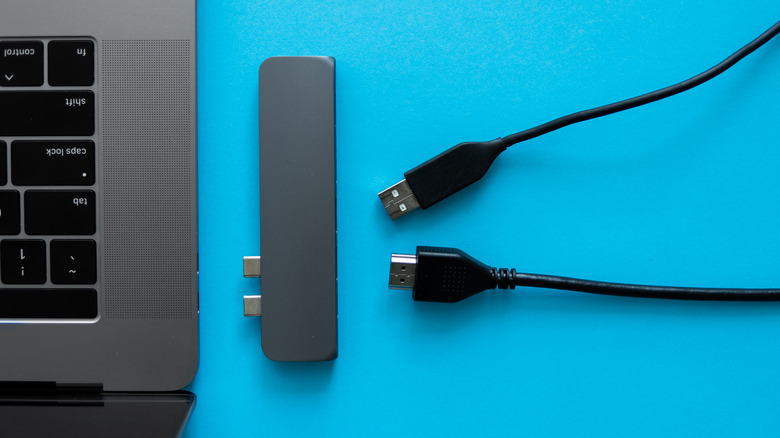 Volodymyr_Shtun/Shutterstock
The USB Promoter Group released the specification for USB4 Version 2.0 [PDF] on September 1, 2022, giving the tech community an idea of what it can expect for the ports on our next laptops, desktops, gaming consoles, and maybe even smartphones. Given that the new standard is replacing the USB4 Version 1.0 standard announced only three short years ago, it's impressive that USB4 Version 2.0 doubles the bandwidth from a maximum of 40 Gbps to a whopping 80 Gbps. 
It goes without saying that USB4 Version 2.0 will operate over USB Type-C, which means it will maintain backward compatibility with previous USB standards that operate over the same physical cable. As such, USB4 Version 2.0 works with Thunderbolt 3, USB4 Version 1.0, USB 3.2, and USB 2.0. The increased bandwidth is great news for fans of thin-and-light laptops and ultrabooks that have gone to war with ports, often including as few as one or two USB-C ports — and sometimes not even a 3.5mm headphone jack.
USB4 2.0 doesn't require a new cable, but you might want one anyway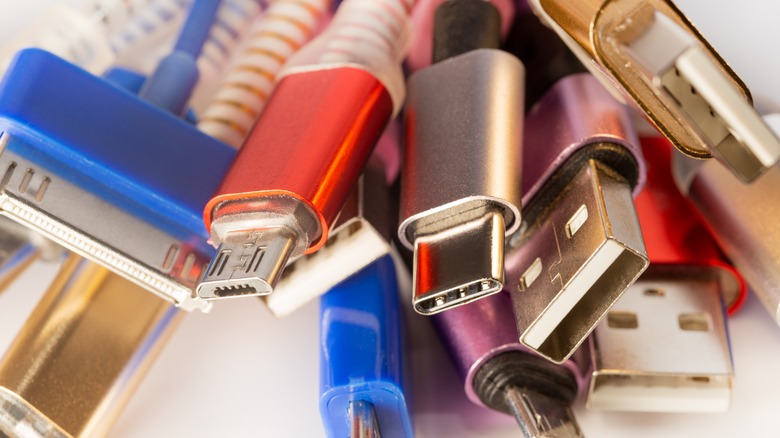 ArieStudio/Shutterstock
It's always exciting when a new connector protocol or specification launches because there's inevitably some sort of leap in bandwidth, but that often comes with a new cable and physical port specification, as well. USB4 Version 2.0 is more of the same but without the hassle. While a new cable specification was announced in the form of 80 Gbps active USB Type-C cables, you don't necessarily need to upgrade to the new cable to make use of all 80 Gbps available to USB4 Version 2.0. 
The most exciting aspect of the specification announcement is that some existing passive USB-C cables rated for 40 Gbps should operate at full USB4 Version 2.0 speeds. As well, consumers will have the option of upgrading to active USB-C cables rated at 80 Gbps. Along with a new cable specification, USB4 Version 2.0 also includes an upgrade to the DisplayPort and PCIe specifications to bring them up to standard with the latest versions. Along with an update to the PCIe and DisplayPort revisions, USB4 2.0 also includes USB 3.2 data tunneling to exceed 20 Gbps.
What does USB4 Version 2.0 mean for users?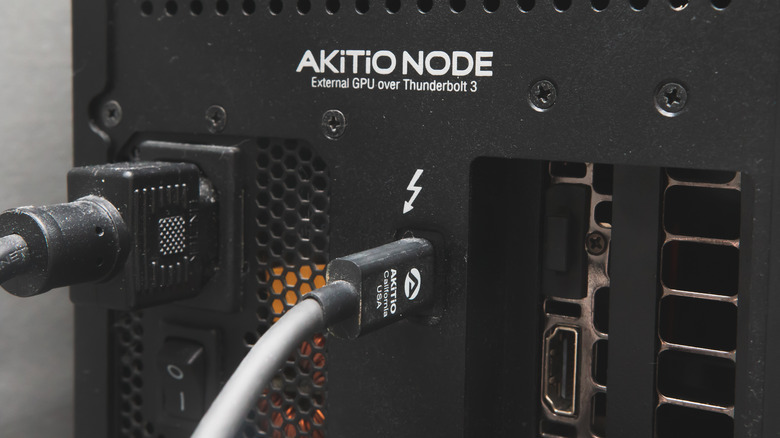 KenSoftTH/Shutterstock
The gist of the story with USB4 Version 2.0 is that users have access to greater bandwidth on devices like laptops, computers, and consoles, as well as access to better features on displays, which is great for everyone. There are exciting edge cases, too. The increased bandwidth — doubling even what's available on Thunderbolt 3 — combined with the updated PCIe revision should mean much less of a performance hit when it comes to external GPU enclosures.  While we won't see new devices until probably at least 2023, the leap forward will mean higher performance for devices like portable SSDs, high-performance monitors, docks, and hubs. 
While the USB Promoter Group released some details about the USB4 Version 2.0 specification, it did also leave us with some gaps. There's no mention in the specification announcement of a minimum USB Power Delivery requirement or any mention of optional features like the 20 Gbps configuration that was released with USB4 Version 1.0 to reduce costs. However, we should know more about updates to the USB Type-C and USB Power Delivery specifications after the USB DevDays developer events in November 2022.