Google Home Revamp Puts Matter Front And Center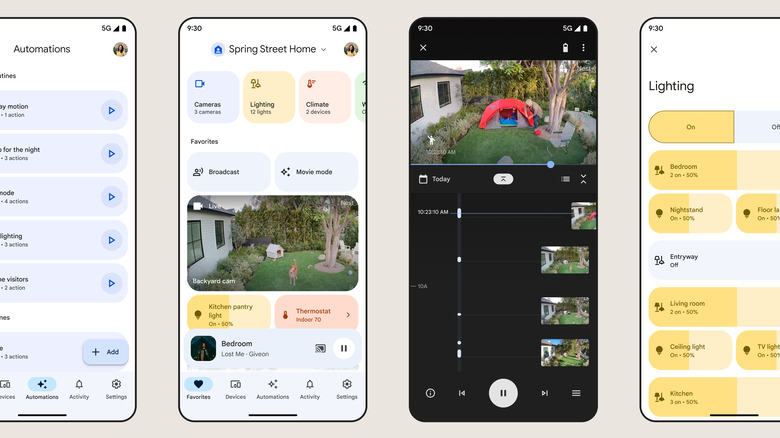 Google
It's been close to a decade since Google launched its home app, and the company is finally about to give it a major update. The company claims that the average user had less than three connected devices when the app initially launched and that the current number of connected devices is 22 or more. But the issue that Google is hoping its app update will tackle isn't the number of devices you have in your smart home network but rather how those devices work together.
Matter is an attempt to standardize the software that makes your smart home function. It has some pretty big names on board, with Apple, Amazon, Google, and Samsung all backing the project. The idea behind the standard is simple: all Matter-certified objects, regardless of manufacturer, will work seamlessly together. So if your thermostat is made by Google, your lightbulbs manufactured by Samsung, your TV by Apple, and Amazon's Alexa is attempting to tie it all together, you shouldn't have a problem. But the launch of the standard itself has faced problems.
Despite having the main names in smart tech backing it up, Matter has had a few issues. Its launch has been pushed back a couple of times, with its most recent delay being put down to a need to refine the software development kit companies will be using to get their products Matter ready. Despite the delays, we should be seeing Matter products hit the shelves soon, with a wider rollout penned for next year. And according to Google, its Home app will be ready to get all of those devices up and running.
Google is going all in on Matter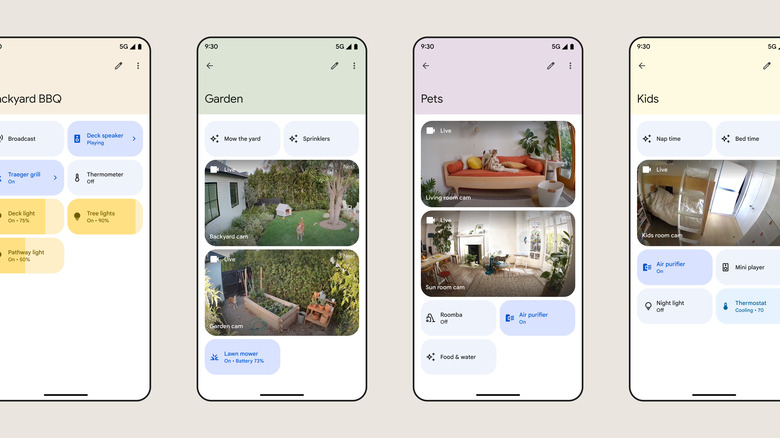 Google
The key updates Google has made to its home app center on Matter implementation. Matter-certified smart bulbs will connect through the app automatically, so there's no more messing around with Bluetooth or WiFi connections, nor will you need a specific app to get them going. Google says this plug-in and play style of setup will eventually go far beyond bulbs, and the setup process itself will be available on "billions" of Android devices when Matter launches later this year.
Personalized routines and device menus will be available to help users access the devices they use the most quickly and easily. For more advanced users, a script editor will be made available, allowing them a deeper level of smart home customization. Those interested in home security can view their Nest cameras as soon as the app opens if they want to, and Google promises that further customization options will be rolled out as time goes on. Other camera improvements include more efficient ways to scroll through footage and some interesting options for pet owners.
Users aren't just limited to shouting at their smart speakers either. The Google Home app will also be available on both Wear OS and online. This means once the app is linked to a Google account, you should be able to control your smart home from anywhere in the world, whether your phone is with you or not. This also means getting your Google account hacked has more severe consequences, so it's probably worth looking into how you can keep your accounts secured before revamping your smart home.