The Most Incredible Features Of Bono's Massive Luxury Superyacht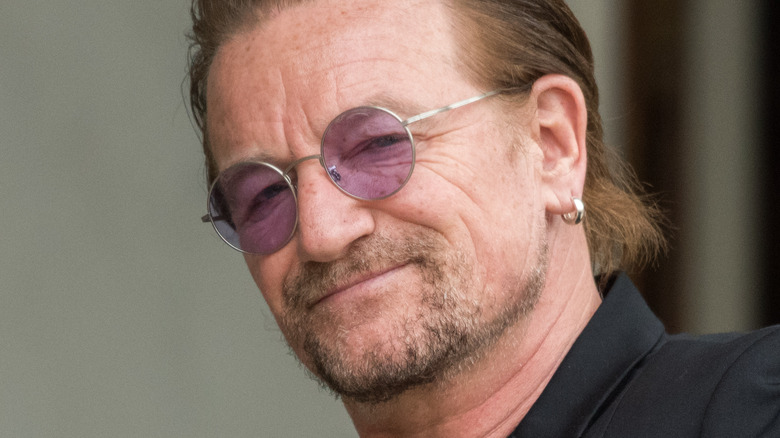 Frederic Legrand - COMEO/Shutterstock
To say that Irish rocker and U2 frontman Bono is one of the most successful musicians in history is an understatement. He has garnered 22 Grammy Awards with U2, undoubtedly one of the most enduring rock and roll bands the world has seen. Bono was inducted into the Rock & Roll Hall of Fame in 2005 with fellow bandmates David Evans (better known as the Edge), Adam Clayton, and Larry Mullen Jr. after selling about 150 million albums since U2 began making sweet rock and roll music in 1976. And after the release of the band's eighth number-one album, "Songs of Experience," in 2017, U2 joined the elite handful of bands with number-one albums in four consecutive decades (per Britannica).
With credentials like that, it wouldn't be surprising for Bono to splurge on exotic, hyper-expensive machinery, given his eye-watering $700 million net worth. In 2008, Bono and his wife Ali Hewson purchased a 140-foot superyacht, "Cyan," for about $11.5 million (per Money Inc) and gave it a makeover to rival most four-star hotels.
From Cyan to Kingdom Come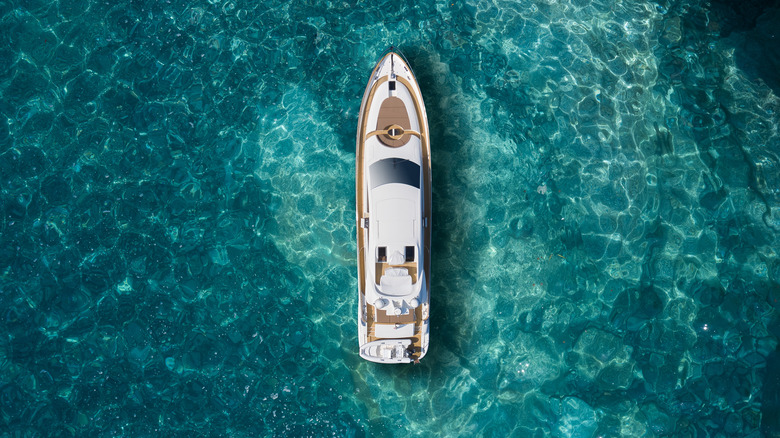 Andrea Berg/Shutterstock
First built in 1997 by renowned Italian shipbuilder Codecasa in Viareggio, Italy, Bono's 140-foot superyacht has a top speed of 19 knots. According to Club Yacht, Bono's yacht has six roomy and posh cabins to accommodate up to 12 guests, with each room having a plasma TV and satellite television. Meanwhile, it also has a baby grand piano, a bar, and a full gym in the indoor common area. In addition, the deck features an outdoor cinema (with a massive three-meter screen), a custom stereo system, a jacuzzi, a swimming pool, and a holding area for watersports toys and fishing gear like kite surfers, WaveRunners, and Seabobs.
After refitting Cyan with all the modern luxuries and appurtenances befitting a superyacht, Bono renamed it "Kingdom Come." It has been the Hewson family's conveyance of choice when vacationing in the Mediterranean Sea, the French Riviera, and St. Tropez.
Here's the clincher: Boat International reported that U2 lead guitarist the Edge is the actual owner of Cyan, but does it really matter at this point?