2023 Ford F-Series Super Duty Is The First 5G Pickup Truck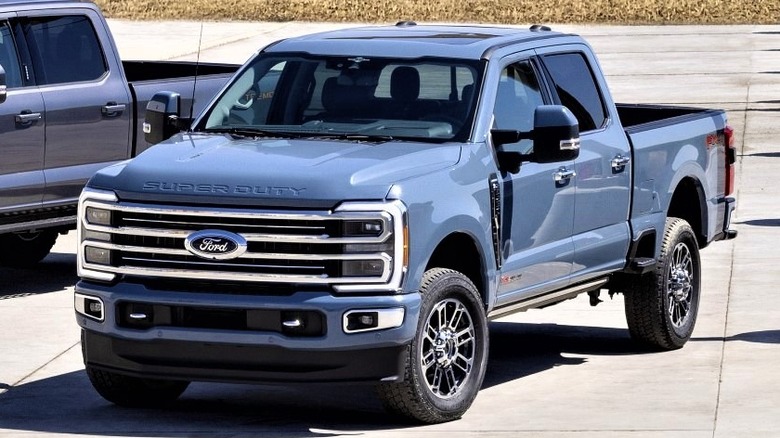 Ford Motor Company
The first 5G pickup truck has arrived in the form of the 2023 Ford F-series Super Duty, and it's quite the mobile power plant. Ford's F-series pickup trucks have been synonymous with utility and productivity. This ethos carried onto its electric vehicle variants, as well, with the F-150 Lightning even being capable of powering an entire house if the need arises. Given how often EVs get cutting-edge tech treatment, does that mean internal combustion engine trucks are simply too dated to keep up? Well, it seems like the latest F-Series Super Duty lineup — which mostly runs on ICEs — aims to be an exception to that by offering more than just 5G connectivity, which is made available via AT&T.
In a press release, Ford announced the 2023 F-Series Super Duty as a pickup truck that's made "to get things done." For starters, its engine choices all comprise beefy eight-cylinders ranging from a standard 6.8-liter V8, a more powerful 7.3-liter V8, to even a torque-happy 6.7-liter turbo diesel V8. All that power doesn't just go to running the truck itself though, as the pickup can power an entire job site, including equipment such as utility cranes and plows, according to the automaker. Such machinery can be controlled from within the truck itself by using customizable digital buttons via the interior display. Speaking of interiors, yes, there's even more updated tech inside this gas-powered ole' reliable.
The 2023 F-Series Super Duty is no Luddite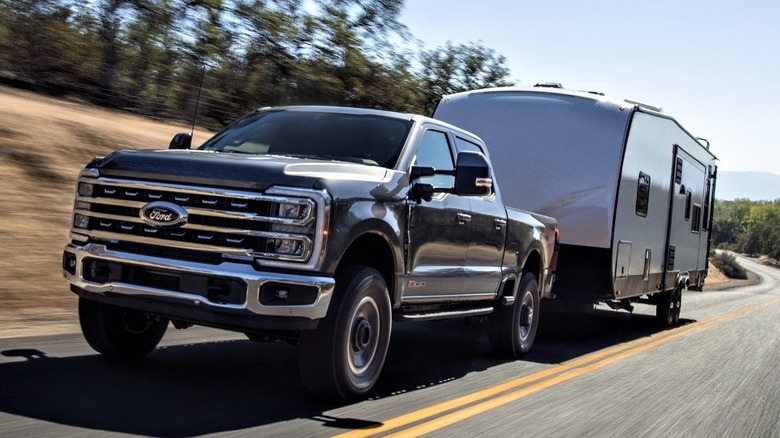 Ford Motor Company
The new F-Series Super Duty range basically modernizes the old pickup truck everyone knows about by giving the pickup its EV counterpart's smarts. This includes things like vehicle management via Ford Pro Telematics, intelligent cruise control, built-in smart scales for cargo weight estimation, front and rear brake assist, proximity sensors for potential collision alerts, and an "industry-first" rear camera sensor system that notifies and guides drivers when backing up with the tailgate down. Its 12-inch digital gauge cluster is complimented by a colored heads-up display, while a 360-degree trailer camera system helps mitigate blind spots. Sure, the 2023 F-Series Super Duty sounds like it strictly means business, but there's still room for leisure on the inside too.
Aside from seats that can recline almost horizontally, there's also an 8-inch center console, and a 640-watt 8-speaker Bang and Olufsen Sound System, both upgradeable to a 12-inch display and 1,080-watt 18-speaker system, respectively. Of course, it can also serve as a high-speed internet hotspot for up to 10 devices. Its built-in 5G modem courtesy of Qualcomm translates to faster speed and quality standards in terms of downloads, software updates, and navigation performance, to name a few. Overall, Ford's new F-Series Super Duty sounds like it's offering EV tech conveniences, but without the F-150 Lightning's frustrating limitations. With a fast-refueling mobile powerhouse for work and play, who needs range anxiety?