The Reason The Dodge Stealth Was A Failure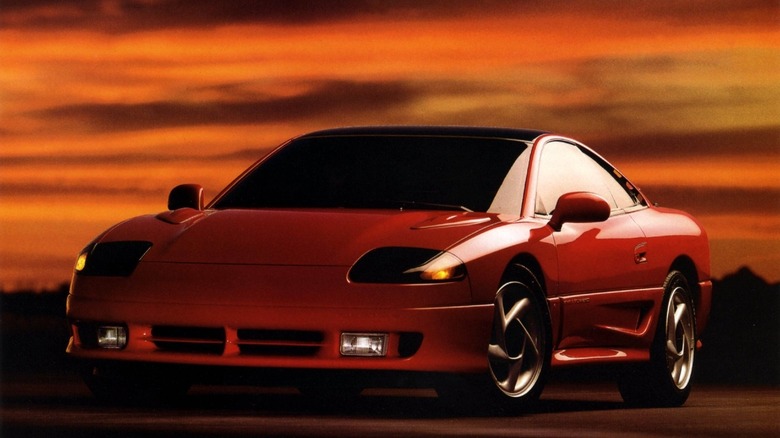 Stellantis
The 1990s were a Renaissance period for Japanese performance cars — after all, it was in this decade that legendary cars like the MK IV Toyota Supra and the Subaru WRX came to be. It was also a time of transition for Chrysler's Dodge brand. At that time, Chrysler was teamed up with Mitsubishi in a joint venture called Diamond Star Motors. That venture would continue until 1995. This partnership birthed the Mitsubishi Eclipse in 1990, the sports car of "Fast and Furious" fame. As a Chrysler product, it was dubbed the Eagle Talon.
The V10-powered Dodge Viper wasn't around just yet and the brand needed a sports car, so it asked Mitsubishi for help. Together the brands came up with two models for the North American market: the Dodge Stealth and the Mitsubishi 3000 GT. While it could be said that both Dodge and Mitsubishi equally collaborated on the cars, sharing ideas and engineering expertise. In reality, the Dodge Stealth looks like it cheated off the Mitsubishi's homework and changed just a few answers so it wasn't caught. The model was only produced from 1990 to 1996.
Neither a Dodge nor stealthy
The Dodge Stealth was mechanically identical to the 3000 GT — not in that it shared a lot of components, it was almost the exact same car. The only difference was the exterior, and the Stealth wasn't even wildly different on the outside; it was even built entirely in Japan. To make matters even more confusing for consumers, both models were offered simultaneously in America. Theoretically, you could walk into a Dodge dealership in 1991 and end up buying a new Mitsubishi. 
Performance-wise, the Stealth was actually pretty competent for the time — as long as you didn't buy the base model that only packed 160 horsepower, that is. The higher-end Dodge Stealth R/T Twin-Turbo (featured in the image above) offered over 300 horsepower and could be equipped with not only all-wheel drive, but also four-wheel steering. That's an innovative feature in 2022, much less over 30 years ago. Too bad it wasn't even really a Dodge. 
Though the model was appealing in many ways, there were some downsides, too. Reviews from the time, such as one from Car & Driver, claimed the interior was cramped and confusing. Some of the dash controls were positioned in ways that made them a hassle for the driver, according to those old reviews, and there was said to be an odd mix of illuminated elements that were, depending on which one you're talking about, either too bright or too dim, but seemingly never just right. Mitsubishi would continue to make the 3000 GT until the 1999 model year, but Dodge ultimately made the decision to end Stealth production after six model years.