President Biden Had A Familiar Ride For The Queen's Funeral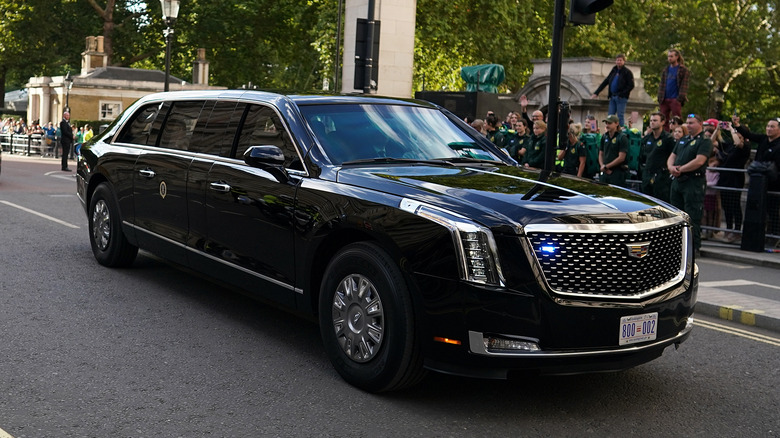 Ian Forsyth/Getty Images
Queen Elizabeth II's funeral was held Monday morning in London. Among the numerous state vehicles delivering dignitaries and heads of state to the ceremonies, one vehicle stood out: President Joe Biden's Presidential Cadillac limousine, also known as "The Beast." While members of the royal family were carried around in a fleet of Bentleys, Jaguars, Land Rovers, and Roll-Royces, the United States' Commander-in-Chief chose a decidedly more American vehicle.
President Biden's limousine is famous for sharing more characteristics with a military vehicle than your average Caddy. Specific details will likely remain classified for some time, but the Beast is rumored to be able to withstand explosions, grenades, chemical attacks, and all manner of small-arms fire.  
The Beast is rumored to weigh around 20,000 pounds and is based on the GMC Topkick platform, a chassis originally intended for heavy-duty vehicles like dump trucks and large box trucks (via Car and Driver). The specific powerplant and transmission setup have not been revealed, but it's likely a fairly powerful setup, as the President's Caddy needs to be able to get out of danger in a hurry. 
The Beast in Britain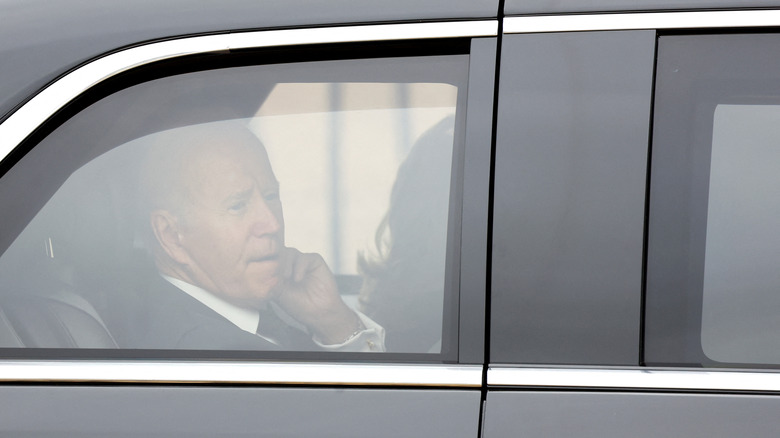 Wpa Pool/Getty Images
According to Metro, the Beast arrived in London on Saturday night along with several hundred members of his security detail. President Biden was given special permission to use his own limo during his visit to pay respects to the late queen. Aside from the royal family themselves, Biden was likely the most well-protected individual at the event.
With its immense weight and security attachment, transporting the Beast is a logistical feat. But given the vehicle's extremely specialized nature, armored plating, and Biden's love for all things General Motors, it makes sense for the President to eschew local travel accommodations. Initially, it was reported that the Beast was even caught in a traffic jam while travelling to the funeral but managed to arrive just in time for the ceremony. 
Israel's President Isaac Herzog also utilized his own fleet of state vehicles to arrive at the event. Other heads of state did not enjoy the same accommodations and were carried to the ceremonies in a fleet of buses, a decision that some unnamed heads of state were not happy with (via Politico).