Sony's SRS-XV900 Bluetooth Speaker Is Huge But That's Not What Stands Out Most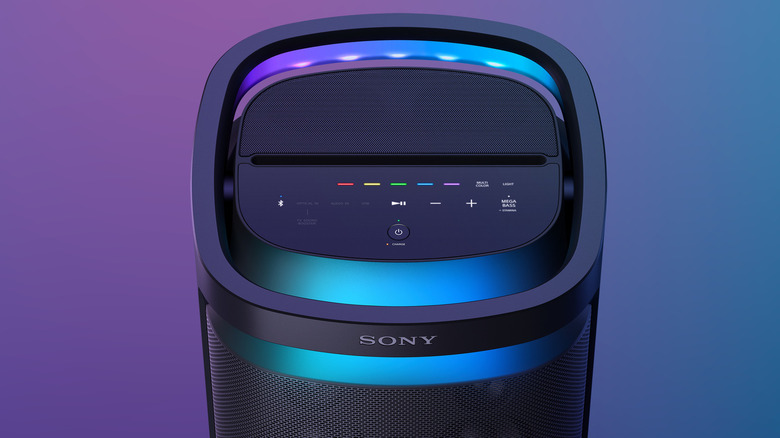 Sony
Whether you're getting ready for a small house party or a huge event, Sony has got you covered with this fancy new Bluetooth speaker. Made for those who really need a speaker that can get loud, the Sony SRS-XV900 is massive, and it delivers a pretty vast range of features that could be helpful both at a rave and in a home entertainment system. Music, movies, karaoke — Sony promises to deliver all of it, and we now know the juicy details, including the price.
Sony is well-recognized by audiophiles for its audio devices, such as the excellent WH-1000XM5 headphones we recently reviewed, so this speaker release is pretty exciting. Sony's new speaker differs from the usual tiny and portable Bluetooth devices we've all grown used to seeing. It's huge, it comes with a three-way sound system, and it has an impressive battery life that will last longer than most parties you've ever been to, maxing out at 25 hours. Even if the battery dies mid-event, recharging it for just 10 minutes grants you 3 hours of music, so it's not going to be a massive problem.
The company markets the SRS-XV900 as its own loudest and most powerful party speaker, and although it is yet to share the exact specifications about the driver or anything else, we're inclined to believe that statement. The drivers are said to deliver mid-range and vocal clarity, and Sony has also equipped the device with an X-Balanced speaker that tends to the lows and makes them as distortion-free as possible. The omnidirectional sound makes it a great pick for a party, with the sound reaching every corner of the room.
Sony serves up plenty of battery life and connection options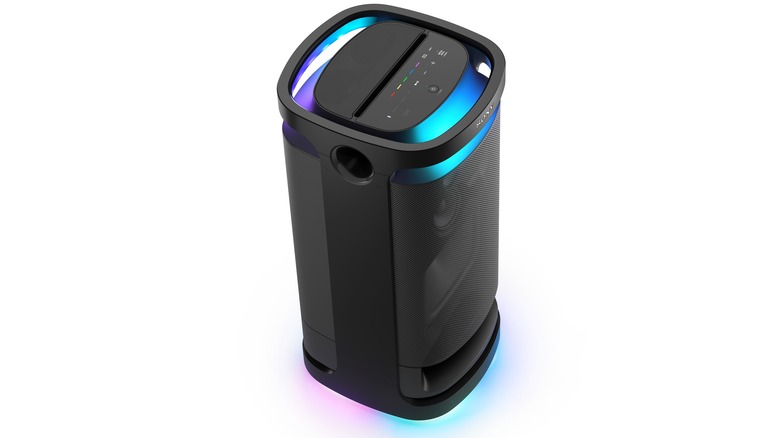 Sony
While this speaker is much larger than most Bluetooth speakers, you don't have to worry about carrying it around yourself — it comes with a set of wheels and a handle to make it as portable as possible. If you're running an advanced sound system for a bigger event, you'll be pleased to know that through Sony's Party Connect feature, you'll be able to pair up to 100 compatible Sony Bluetooth speakers for a deafening sound that will raise the roof of your house (or venue). This can be amplified with the Mega Bass feature that ramps up the bass on the speaker, and for a realistic concert-like experience, Sony added the Live Sound option.
The device can also be used for karaoke or playing music live. You can plug in a microphone, or a microphone and a guitar, in order to perform for your friends or a larger live audience. Apart from crazy raves, you can use the SRS-XV900 for a more cozy affair, such as watching TV. The speaker comes with a TV Sound Booster function that enhances the sound of movies and shows; for that, you can use the included optical cable and use it with any TV brand or model.
The Sony SRS-XV900 is available for pre-order starting on September 20, 2022, directly from Sony, but it will also be made available at Amazon, Best Buy, and other retailers shortly. The model's priced at $899.99, so it's not exactly cheap, but it sounds like its sheer size and power could certainly help it rank high among the best portable Bluetooth speakers of the year.