GTA 6 Leak Allegedly Reveals A Major Detail About The Game's Setting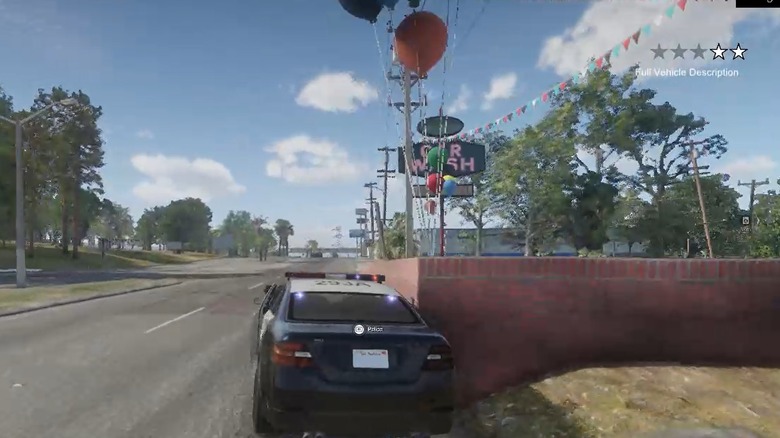 RockStar Games
A shocking number of videos of the video game "GTA 6" ("Grand Theft Auto VI") have appeared online in advance of the title's release. This leak appears to have been done by the same person who attacked Uber last week, though the two drops appear to be relatively unrelated. The user appeared on GTAForums with approximately 90 individual videos showing "GTA 6" in action, complete with details on hardware and software source codes running behind the scenes.
According to details spilled in the clips, the game will take place in the same environment as the 2002 installment "Vice City" — almost like we're headed back to the fourth entry in the legendary series. It's a Miami vibe and a time period that lends itself to an experience that'll be both familiar and new enough to be a giant hit in short order. It's important to note that clips like those found now on YouTube and Twitter will likely be removed shortly. Several have been hit with takedown notices in the first few hours after this leak, and the end is nowhere in sight.
We're heading back to Vice City
The game's going to be full of adult situations and extremely weird people from all walks of life, as shown in one NPC chat in one of the clips leaked this weekend. One clip captured in a strip club shows both GRA artwork and lighting consistent with the modern era.
If the rest of the clips weren't enough proof, a "Vice City Metro" label can be seen in one rather brief video in a train station. Though it may be an inconsequential detail, this same clip shows the main character's baseball hat up close seemingly with the name "Chacoy's."
Another clip shows the Vespucci Mall, another shows a Vice City government building with the words "VICE CITY" in giant letters on its side. There's a clip showing one of the two major main characters driving an airboat on the land — though it's more likely meant for a swamp — and another swimming underwater with far more detail than we've ever seen before, especially when it comes to refractory lighting.
The real release isn't imminent
We're seeing both male and female protagonists and an array of details that suggest this game is set to take place in the timeline after "GTA 5." Given the level of detail in graphics, gameplay, and sounds in these clips, it's very unlikely that they were made by anyone other than the official developers themselves.
Despite the fact that these clips arrived here, in September 2022, it's unlikely we'll see this game's release any time soon. "Grand Theft Auto" games have historically taken many, many years to arrive in stores after their production has been greenlit.
If history teaches us anything, we won't see a "GTA 6" release date before 2025. Even then, it'll likely be released first for consoles like PlayStation 5 and Xbox Series X. If you're waiting for a PC version of "GTA 6" for your Windows gaming rig, chances are you'll be waiting for 2026 at the earliest — but we shall see!