Why The Toyota Celica GT-Four Was Banned From Rally Racing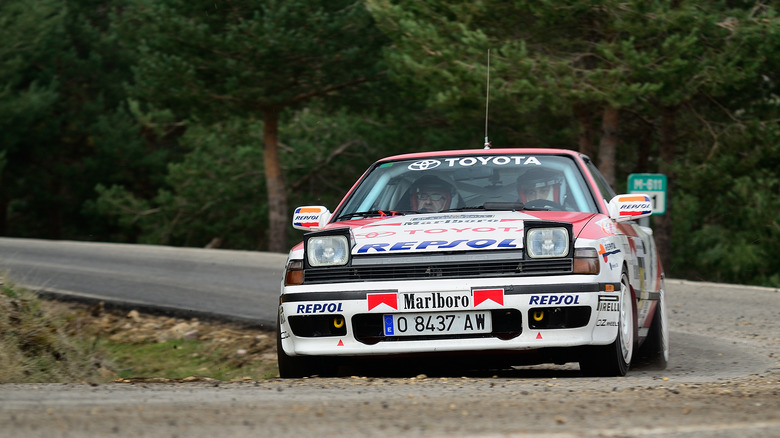 Rodrigo Garrido/Shutterstock
The Celica GT-Four was Toyota's rally ace for years, even becoming the first-ever JDM vehicle to beat its European counterparts in rallying. So did it fall from grace? When it comes to the world of motorsport, Toyota's renowned for its accolades in rally racing. This is thanks to its first-ever sports car model, the Celica, which debuted in the 70s. While the first-generation Celica was a sporty yet affordable pony car, it didn't make many waves in motorsports. It wasn't until Toyota introduced its All-Wheel Drive GT-Four Celica that this iconic range started turning heads, as these cars finally strung up wins at the World Rally Championships.
The fourth generation Celica ST165 got thirteen WRC wins, while the fifth generation ST185 had more victories at sixteen (via Toyota Europe). The Celica came to be known as the first Japanese car to beat competing European models after winning the WRC Manufacturers' title. At this point, Toyota was becoming a dominant rally-racing force, so its next Celica had to be even better. In 1994, the Japanese automaker announced the arrival of its sixth generation Celica — the homologated ST205 GT4 (via Toyota). Toyota utilized its past WRC success to make this Celica tick all the boxes, including a larger water-cooled inter-cooler and bigger turbo engine generating over 220 hp in the process. However, it only won one WRC title before Team Toyota "shifted its focus" to the next Corolla. What happened?
The Celica GT4 was caught cheating
Make no mistake, the rally-focused Celica was formidable enough to win WRC and African Safari Rally titles fair-and-square. That is, until the official motorsport regulatory body, the Federation Internationale de l'Automobile (FIA), decided to limit the power of competing vehicles. This was done to prevent these racing powerhouses from running over hapless spectators and promote a safer racing environment in general (via Jalopnik). When Team Toyota Europe was required to install a restrictor plate on its turbo-charged engines, an ingenious Celica GT4 cheat began.
By using a modified contraption, the team was able to trick the FIA into thinking its turbo set-up remained untampered upon inspection. Team Toyota's clever little workaround allowed them to circumvent the power-limit rule, giving them an unfair advantage of about 50 horsepower over the competition (via Jalopnik). The thing is, the Celica GT4 cheating ruse was so cleverly executed that Toyota would've gotten away with it. A whistleblower might've been responsible for exposing the team, as they were allowed to continue racing until the FIA abruptly announced their disqualification.
How does Toyota's clever Celica GT4 cheat work?
The Toyota Celica GT4's ban didn't come from giving it more oomph. Rather, it was simply due to modifying regulatory equipment to simply unlock what it already had. Restrictor plates were designed to stymie airflow coming into the engine in order to lessen its overall power output. However, the rubber hose that connected to the Celica's turbo had a modified segmented steel cuff tip, per Jalopnik. When the hose is tightened, it opens up the restrictor plate just enough to allow more air into the turbo. Although this already makes Toyota's Celica GT4 illegally tampered, the restrictor plate hack cleverly disengages when taken apart.
This is how the controversial Celica GT4 cheat worked only when racing. Whenever it wasn't, which is when inspections happen, it flies below the radar. Presiding FIA president Max Mosley was so impressed, he deemed the Celica GT4 cheat the "most ingenious thing" he had seen in his 30 years. Despite Mosley describing the contraption as "beautifully made," Toyota was banned for a year. In the end, not only did Toyota almost get away with cheating, it even received a pat on the back for its efforts. Afterwards, the Celica was replaced with Corolla World Rally Cars, with Toyota later pursuing rally stardom with its Yaris instead (via WRC). Luckily, its only ban regards advertisements.