100 Thieves CourageJD team-up official, YouTube, Twitch in the mix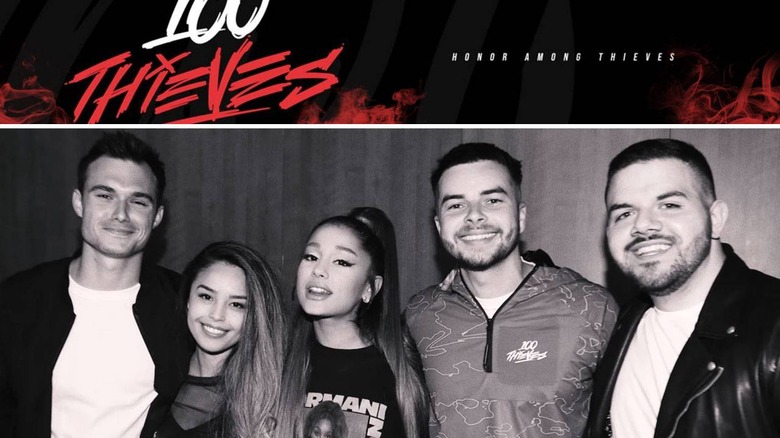 Fortnite gamers* 100 Thieves just announced they've added @CouRageJD to their team as "the third creator" for their content house. They've picked up Courage (as he's otherwise known) to bring his high EXP in professional gaming and casting to the public through the 100 Thieves lens. They've got winning esports on their mind, and Courage is now in the mix.
The folks at 100 Thieves play games like *Fortnite, Call of Duty, Apex Legends, and League of Legends all day long. Below you'll see some action posted just after the announcement of the Courage join-up this afternoon. UPDATE: Just hit the Twitch (Courage squad) button if you want to check that out. Below you'll see an intro video from Courage from a much more blog-friendly YouTube instead.
And yes, this has something to do with Arianna Grande. Something about a photo and being the cool guy standing next to Arianna Grande, something like that. Creators/gamers Valkyrae, Nadeshot, and Courage are all involved, here. Young people: They're making references to The Office – a show that used to be on broadcast television. Weird, right?
You might recognize CourageJD from his casting sessions with Call of Duty a few years back. Or yesterday. He was "shoutcasting" as they call it, so very loud, that I cannot remember when it was that it all happened. It was just so... so loud. So shouty, so full of yelling.
Also, for those readers who looked at what was written above and found themselves with a melted brain, here's the situation: there's a group of gamers that've found a way to make BANK in playing games very, very skillfully. They play these games and broadcast what they're doing while they talk about what they're doing in the game – and the kids, they love it. The kids, they watch this stuff like the last generation watched The Office.