10 Features Revealed for OSX Lion including Multi-Touch Gestures, Full Screen Apps, and Mission Control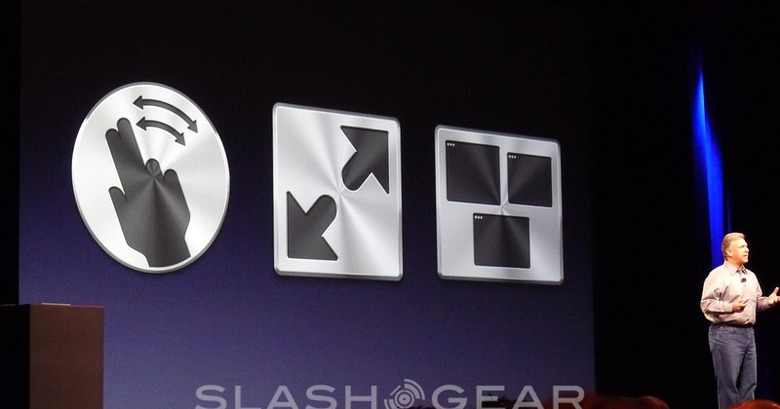 Revealing OSX Lion on the first day of WWDC in California today, Apple's Phil Schiller started down a list of 10 features that would essentially outline the breadth of the new Mac operating system. He began with Multi-Touch Gestures, a system that would expand on what Apple's trackpads already had in place. With multiple fingers you'll now be able to tap to zoom, pinch, two-finger swipe, scroll by pulling (much in the same way you do so on a tablet.) The next feature, these features coming on QUICK by the way, was Full-Screen Applications.
Full Screen applications continued the trend toward the more mobile-like situation in Lion, this bit being activated by a new control in the upper right to go full, a swipe allowing you to go between apps. This full-screen situation will be active very soon for a lot of core Apple apps such as Safari, iMovie, and dozens more like iCal, and Preview which they show displaying a full-screen PDF. By the way, all of this was displayed on a jumbo-tron behind Phil on stage being shown on a stylized (perfect) vision of a MacBook Air.
The next feature shown off was Mission Control. This system is a unification of apps like Expose and Spaces, both of them and the rest of the items included in Mission Control made specifically for productivity. Mission Control will show you all of your apps and documents you're working on at once, allowing you to organize with spaces at the top of your display. You'll have multiple viewing options and you'll be working with WIDGETS in your upper left. Neato!
Craig Federighi steps into the light to show off some of this action.
Gestures
Craig took to Safari with the BBC, scrolling up and down with ease using momentum scrolling, again very similar to what you've got going on with your iPad right this very moment. You can zoom in and out by pinching, or double-tap to smart zoom. If you've got the urge to knock your webpage off the side of your browser, just swipe two fingers to the left or the right – another excellent use of Apple's signature falling into place movement like you see when you purchase an app from the App Store.
Full Screen Apps
Opening up iPhoto, Craig shows off how you can swipe back and forth between your collection of photos and back over to your widgets, back to your desktop, whatever you like. AGAIN like a mobile vision of this until-now sort of static system. This is integration! Photo Booth is shown next, showing off a suite of new face-detection options.
Mission Control
Finally we access Mission Control with a simple three-finger swipe upwards. Here you see everything all at once in a vision of productivity like we've never before experienced. Dramatic enough for you? This presentation was full of excellent actions such as a space bar hit to zoom when you've got your mouse hovering over an item in Mission Control. If you're drawing in windows like yours truly, this will certainly be a whole new door to walk through. Over over the upper-right of your screen to create a new Space, drag windows to it to use it similar to a folder (this sort of thing already in place in iOS at this moment, deleting a space then as simple as hitting the X in the upper left of the window.
Simple and great! Let's continue to follow along here in the main news feed on SlashGear!