ZyXEL MWR211 Mobile Router Review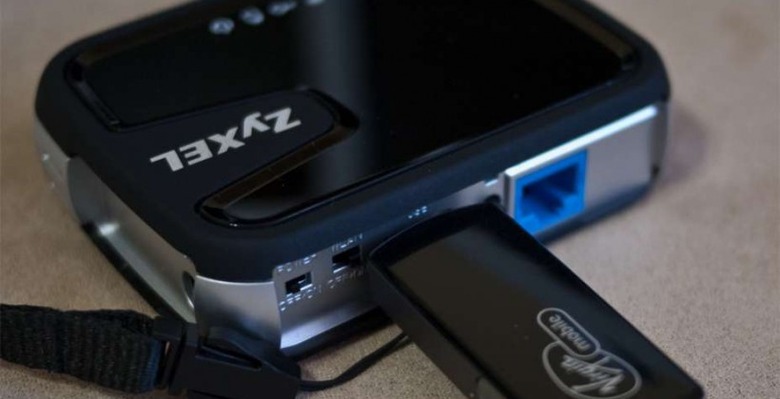 Mobile hotspots are relatively common by now, and more and more smartphones offer data-sharing among their features; what, though, if you've already got a USB modem and are tied into – or content with – your existing data package? ZyXEL believes it has the answer in the shape of the MWR211 mobile router, a palm-sized way to share your connection while mobile. Check out the full SlashGear review after the cut.
Hardware
At 4.11 x 3.1 x 1.02 inches and 5.33 oz the ZyXEL MWR211 is a bigger block than most MiFi mobile hotspots, despite not actually having a 3G/4G modem built in. What you do get is WiFi b/g/n with support for WEP/WPA/WPA2 and WPS, an ethernet port and an integrated 3,000 mAh battery which ZyXEL reckon is good for up to 2hrs of standalone runtime.
Setup is straightforward, but also more flexible than with a regular mobile hotspot. You can either plug in a USB modem – ZyXEL has a list of compatible models – and use that to get online, or you can plug in a regular wired internet connection and share that via WiFi instead. If you use a USB modem then the ethernet WWAN port can be used to connect a wired device instead (ZyXel also make a larger version, the MWR222, with two USB and two ethernet ports).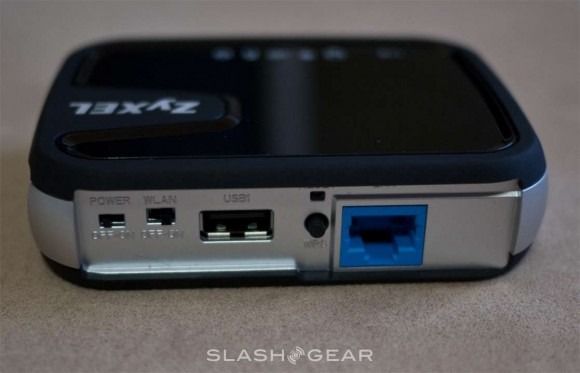 What that means is that the MWR211 can not only share out your USB dongle's connection but allow more than one device to access hotel internet service. There's also a physical WiFi switch (as well as a physical power switch) allowing you to turn the wireless off altogether and solely use the ethernet port. As with a regular router there's MAC filtering, port forwarding, VPN support and a NAT firewall; you also get data usage monitoring, with user-assignable alerts to let you know if you're nearing your monthly allowance, together with prioritized bandwidth (so that, say, VoIP traffic is treated as more important than gaming traffic) and even the ability to assign bandwidth limits by IP address or for clients hooked up to the ethernet port. Unlike most mobile hotspots there's no artificial limits on WiFi clients, either, so assuming you have sufficient bandwidth you can share it with as many devices as you like.
Performance
Plugging in a modem got us online straight away, with the default SSID and password easily changed through the web interface. We tried a number of different USB modems from various carriers and had no problems at all; similarly, having plugged in a wired connection from our router, we were able to share that connection as well. A simple row of LEDs show USB, ethernet, WiFi, WPS, battery and power status; although a display of some sort would be preferable, the browser-based control panel served its purpose.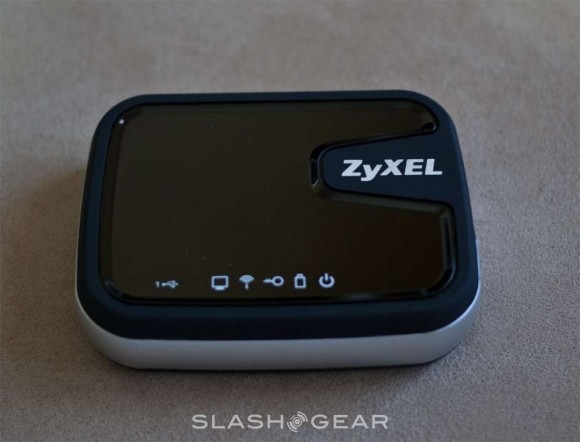 Speed was obviously dependent on the 3G or 4G network we hooked up, though we noticed no difference in performance whether we were using the USB modem directly or connected via the ZyXEL. Battery life, meanwhile, fell in line with the company's estimates, which means you're getting around half the time most mobile hotspots with integrated modems promise. An AC adapter is bundled for recharging or using the MWR211 in a fixed position, and we had no issues with overheating.
Wrap-Up
A dedicated mobile hotspot or a hotspot app on your phone is always going to be more elegant than the ZyXEL; with a USB modem hanging off the back, and given its physical heft, this isn't a device that slips comfortably into a shirt pocket, for instance. Still, what you lose in discretion you gain in flexibility. Being able to pick and choose between multiple networks depending on the coverage and data plan pricing of each is a real advantage, especially if you're travelling and want to get online with a local data stick or make the most of a hotel connection. USB modems also tend to be cheaper than their hotspot counterparts, though obviously there's the price of the MWR211 to take into account as well; ZyXEL given an RRP of $114.99, but you can find the mobile router for around $85 online.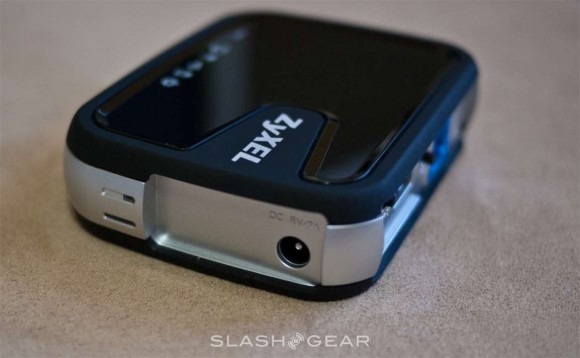 For pure mobility purposes the 2hr battery is underwhelming, though of course you can easily unplug the modem and hook it up to your notebook direct if you can't find a power point. Most users will probably find mobile hotspot apps easier to handle, but for those who regularly travel or who juggle a few USB modems to cater for different areas of coverage, the ZyXEL MWR211 does a lot to warrant inclusion in your gadget bag.