Zynga and Hasbro take Farmville offline with new card game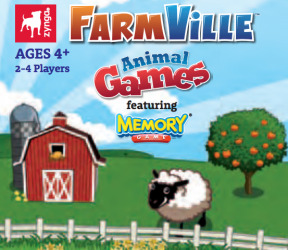 Last month, Zynga released Farmville 2 after being wildly successful with the initial Facebook-based version. Now, the company has taken the highly addictive farming game offline and developed a new card game for ages four and up, called Farmville Memory. Zynga had started making deals with toy companies in February, which included a licensing deal with gaming company Hasbro.
Yesterday, Hasbro had actually reported its second quarter earnings, which showed a drop of 25 percent in profit as a result of falling sales in most major categories. But despite a lackluster earnings report, the company is optimistic that the partnership it has developed with Zynga can bring it back up by bringing together a digital a digital gaming experience with an analog one.
Zynga games are played by nearly 240 million people on Facebook each and every month. Nobody knows exactly how demand there may be for offline Zynga or Farmville products, but the partnership is likely to benefit both companies. Online gaming company Rovio is proof that it can work, with 30 percent of its revenue coming from merchandising and licensing in 2011.
[via TechCrunch]