ZX Spectrum Next makes another stab at nostalgia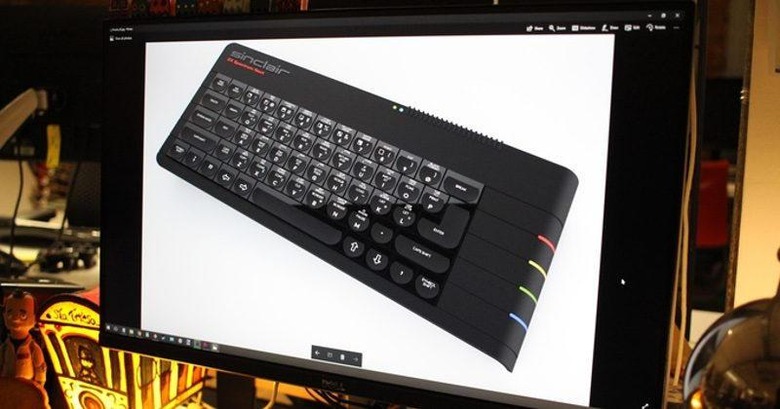 The power of nostalgia is not to be underestimated. It has been 35 years since Sir Clive Sinclair's company launched the ZX Spectrum, rivaling the US' Commodore 64, yet the "retro" computer still has a strong following. The proof? Almost every crowdfunding campaign to revive it is met with immediate success, which doesn't always translate into actual deliverables. Undaunted, fans are once again rallying behind a new campaign that promises to combine both old and new in a single ZX Spectrum Next computer-in-keyboard.
The Next is admittedly a closer throwback to the original Speccy. That partly because its creators have enlisted the design chops of Rick Dickinson, the designer of the original ZX Spectrum. Of course, it has a more modern bent, with most of the electronics now located at the side of the now larger keyboard instead of at the top.
The design isn't the only thing that's nearly identical to the original. The hardware inside is also the same, somewhat. It uses the same Z80 processor in 3.5 MHz and 7 MHz modes, and the 512 KB of RAM seems ridiculous by today's standards, even when talking about smartwatches. The choice of hardware isn't just for nostalgia, though. It was a conscious decision in order to be fully compatible with the original Spectrum.
At the same time, the Spectrum Next also offers modern amenities, like HDMI output, SD cards, mice, and more. One can also opt for an "accelerator board", which is basically a Raspberry Pi Zero acting as a slave board.
The ZX Spectrum Next is still on Kickstarter but, as the video above tries to prove, is already a working device ready to go into mass production. That said, the Sinclair ZX Vega+, which even threw in Sir Clive Sinclair's name, was successfully funded but was never able to ship. Despite that, fans of the Spectrum seem to have high hopes for this one, at least based on how fast the project was funded.
VIA: Kickstarter