Zune to iPod cable in very early stages of gestation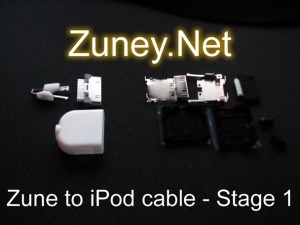 A common complaint levelled at Microsoft's Zune is the relative scarcity of aftermarket accessories like speaker-docks and charging cables compared to the better-established iPod.  Obviously it would've been too much to hope that Microsoft and Apple could've worked together for the good of the consumer, so we'll have to rely on enterprising enthusiasts instead.  The guys and gals over at Zuney.net have set themselves the goal of not only producing a pin-out diagram for the Zune's connector, but constructing a Zune to iPod cable too.
So far the pin-outs have been two-thirds identified, and they're in the very early stages of looking at possible cables.  Right now it seems like some sort of chip will be needed to process the conversion on-the-fly, but as DRM and so-called "locked systems" developers have found the aftermarket tinkerers are not to be underestimated.
The question is whether a cable like this, if created, could ever reach a point of commercial sale, or whether it would be prevented by one or both of the companies thanks to some sort of patent or intellectual protection. 
Zuney [via Zune-Online]