Zune HD shortage lures out price-gouge merchants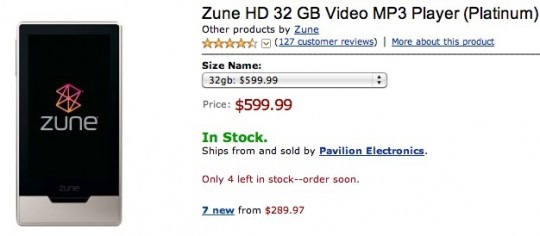 We may receive a commission on purchases made from links.
Never let it be said we stand in the way of private enterprise – heaven only knows how many times I've had to sell handkerchiefs to sailors just to put bread on the table – but taking advantage of Zune HD 32GB shortages to double the price seems more than a little unfair.  Amazon are currently listing the larger Zune HD – which we reviewed last week – as not shipping for 1-3 weeks; however, one Marketplace seller has used the opportunity to list the 32GB PMP for a whopping $599.99.
That's more than $310 more than Amazon themselves are selling the Zune HD 32GB for, or Zune Originals are offering it for; the latter even throw in free laser engraving.  Now we can understand paying a premium for a device that's perhaps not as commonly available in stores or online as people might like, but more than double?
It's a shame, because the Zune HD is a decent PMP.  We found the screen to be bright and clear, with the capacitive touchscreen responsive, while the ZunePass unlimited downloads subscription service really makes this a mediaplayer for music lovers.  More here.
[vms d6cf08c11a970fbe0e2a]
[via Zune News]