Zuckerberg visits Russia for Facebook talks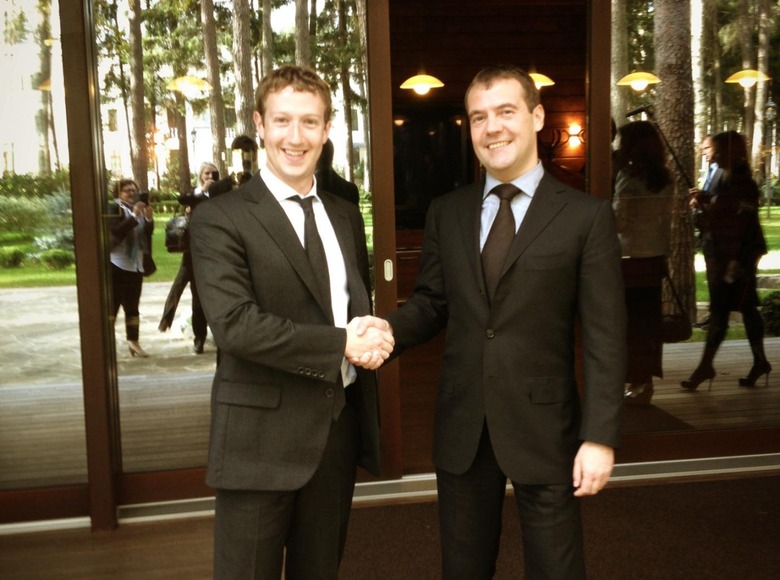 Facebook CEO & founder Mark Zuckerberg visited Moscow, Russia today to talk with Prime Minister Dmitry Medvedev about building a possible Facebook research center in Russia. Medvedev pitched to Zuckerberg that not only is Russia abundant with natural resources, but the country's IT sector is also something that's quickly gaining ground.
Zuckerberg traded in his zip-up hoodie and jeans for a formal suit as he spent the day with Medvedev. Zuckerberg was in Moscow to increase Facebook's presence in Russia, where it competes with local social networking sites. He was also in Russia to attend a programming symposium where he would look to attract Russians to work for his social networking site.
However, it turns out that not all Russians were happy with Zuckerberg's visit. Oleg Kozyrev, a popular opposition blogger in Russia, launched a Facebook group called "Zuckerberg, don't be friends with a dictator!", where he urged Zuckerberg to meet with officials who don't "jail Russian bloggers and create laws on internet censorship."
Then again, Zuckerberg wasn't planning on meeting any other officials or big names, like Russia's president, Vladimir Putin, or even Russia's richest man, Alisher Usmanov. Usmanov invested in Facebook in 2009 and made $1 billion selling his shares this year. It seems that Facebook's plans to grow in Russia are still being discussed, so don't expect anything substantial to happen to the social network anytime in the near future.
[via Reuters]