ZTE V96 Android 4.0 ICS tablet hands-on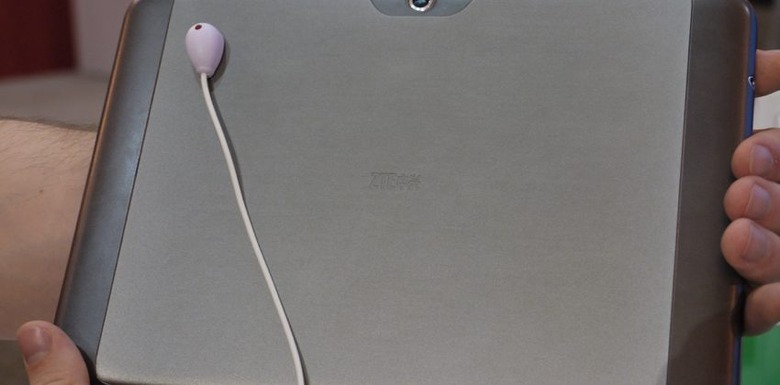 ZTE's latest tablet that was announced during MWC 2012 in Barcelona Spain earlier this year is making the rounds here at CTIA. It wasn't available back at MWC but roaming the showroom floor here in New Orleans we managed to get a few minutes with the new dual-core Android 4.0 Ice Cream Sandwich tablet.
This 10-inch 1280 x 800 resolution tablet comes with an impressive Qualcomm 1.7GHz MSM8960 dual-core Krait processor with 1GB of RAM, 16GB of internal storage, and a micro-SD for expanded storage. Another thing here is the tri-band HSPA+ and full quad-band 4G LTE radios on board. The tablet looked like a final design and was running on Android 4.0.3 ICS, and those 4G LTE radios should work great with AT&T's new LTE network.
With a solid design, impressive specs, 4G LTE capabilities and a nice aluminum design around back the tablet was quite decent — although we'd love for it to be slightly thinner if possible. The build quality was durable and strong too. Android 4.0.3 ICS was completely stock with no changes whatsoever from ZTE, but that could change if this comes to the US with a 4G LTE carrier such as AT&T.
While there was nothing extremely unique to this tablet that other 4.0 tablets don't offer, the faster 1.7 GHz dual-core processor could be what puts potential buyers over the edge to make the plunge.