ZTE TU25 WiMAX USB modem for Sprint XOHM network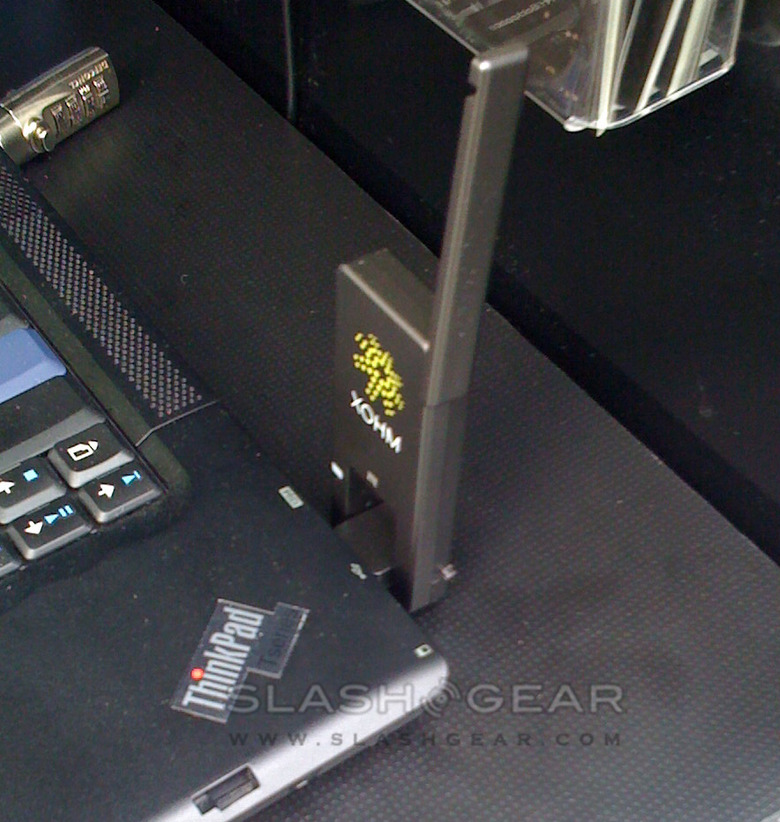 As well as notebooks with integrated WiMAX, Sprint was also demonstrating how users could add high-speed XOHM access to their existing hardware.  Top of the list is the ZTE TU25 WiMAX USB dongle, the only such modem certified for use on the XOHM network. 
As with other XOHM hardware, the TU25 is capable of average downlink speeds of 2-4 Mbps and uplink rates of 1-2 Mbps.  The TU25 measures 85 x 35 x 14.4mm and weighs 57g.
No word on pricing or availability as yet, and Sprint is being equally coy with their XOHM data pricing details.  SlashGear is in Baltimore for the official XOHM launch today, so we'll let you know figures as soon as we hear them.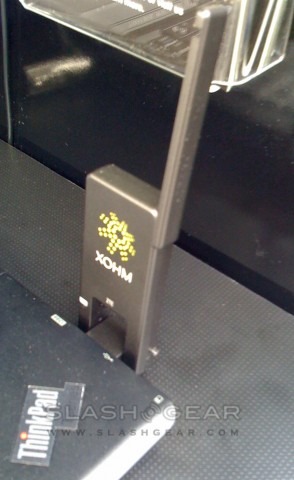 Press Release:
ZTE Achieves XOHM Certification for WiMAX Modem

Only USB Modem Available for Launch of XOHM's Commercial WiMAX Service in Baltimore

ZTE USA, a subsidiary of ZTE Corporation, a leading global telecommunications equipment and network solutions provider, today announced that Sprint's XOHMTM WiMAX business unit has certified its TU25 USB modem after extensive evaluation in the XOHM Herndon, Va. lab environment. The USB modem is the first certified for use with XOHM's Mobile WiMAX service, the company's next-generation broadband service now commercially available in Baltimore and planned elsewhere.

WiMAX (Worldwide Interoperability for Microwave Access) is a wireless internet technology designed to provide broadband connections over large areas – even in challenging city environments. ZTE's TU25 USB Modem provides XOHM's subscribers with reliable, high speed broadband wireless connection for laptops and desktop computers with a USB port.

XOHM's certification of the ZTE TU25 USB Modem signifies the product's interoperability with other elements of the WiMAX network including back-office provisioning and customer relationship management systems and infrastructure. In addition to the XOHM certification, ZTE's modem has also achieved Microsoft's WQHL certification, USB Forum certification and FCC certification, marking it ready for commercial usage.

"With our newly achieved certification, consumers and enterprises everywhere are one step closer to realizing the promise of WiMAX technology which we see as the next-generation of broadband wireless access," said Dr. George Sun, CEO, ZTE USA. "The certification of our USB modem proves that XOHM has chosen a high quality and reliable product that is a key component of the Baltimore launch, as well as future service roll-outs. We are proud to be working hand-in-hand with XOHM and its other vendor partners to help pioneer WiMAX in the United States."

XOHM launched its first commercial service in the Baltimore area on September 29th. ZTE's USB modem is the only USB modem presently certified for use. ZTE worked closely with XOHM to complete the testing and certification in the XOHM ND-ADE lab.

"We know that part of our commercial success relies on our ability to offer our subscribers technologically advanced equipment that will enable them to seamlessly harness the power of our WiMAX service," said Bin Shen, VP Product Management and Partnership Development for XOHM. "After putting ZTE's USB modem through rigorous testing, we are confident to offer our customers this product as part of their service equipment. We look forward to working with ZTE as we launch other cities later this year and next."