ZTE Projector Hotspot hands-on
ZTE did a bit of teasing pre-CES, and now that the show has begun, we have been able to get some hands-on time with the various items. There were some smartphones and the Iconic Phablet, however one stuck out a bit, the ZTE Projector Hotspot. This one is as the name would suggest and serves as both a projector and mobile hotspot.
The Projector Hotspot is able to project images up to 120-inches and has a contrast ratio of 1000:1. Other details here show this as being DLP and with a brightness of 100LM. The hotspot also has support for 1080p input. Touching back on the mobile hotspot bit and that can serve up to 8 clients and has support for WPS and IPV6.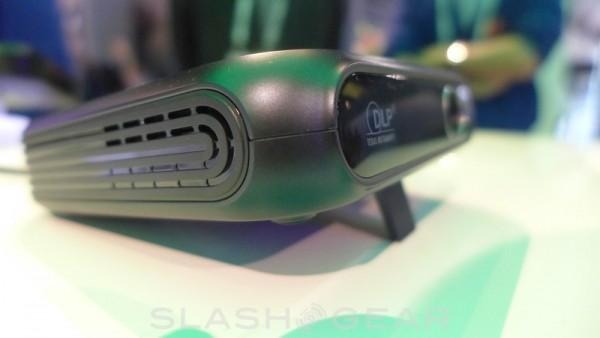 Along with those two features, there is also a 5000 mAh battery that can be used to charge other devices. Or in other words, the Projector Hotspot is also a backup battery for another device. Keeping with the addition of features, the top sports a 4.0-inch capacitive display (at 800 x 480) and the unit itself is powered by Android 4.2 Jelly Bean.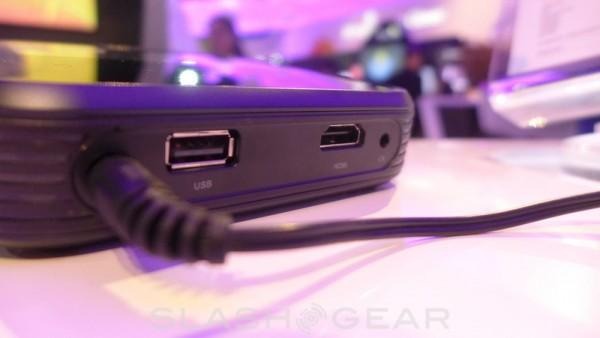 That means you can send content directly from the projector, or have it come in by way of the HDMI input. Otherwise, in addition to LTE for the hotspot, there is also WiFi 802.11 b/g/n, Bluetooth, USB, a headset jack and audio output. And for those looking to take this on the road, the unit itself weighs in at 400 grams and has measurements of 4.72 x 4.72 x 1.12 inches.
All that having been said, the one bit lacking here is the pricing and availability. Neither has been announced just yet, however it should be arriving sooner rather than later.