ZTE P945 phablet revealed in leaked renders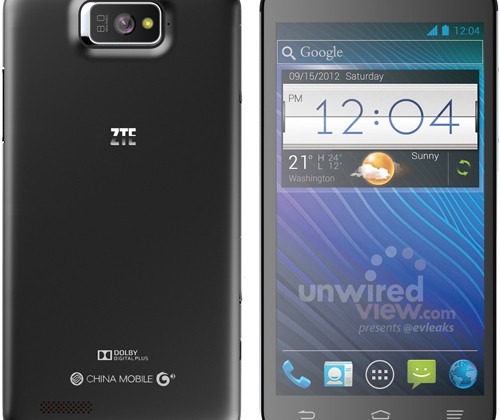 A couple of renderings have appeared of a new smartphone device from ZTE that's so gigantic that it fits right in with the category of smart device called phablet. The renderings here come from @evleaks, a notoriously accurate leaker of devices, and here you'll find that this machine is working a relatively new version of Android if not the newest along with a lovely new widget from ZTE.
This device is set to be working with a quad-core 1.2GHz processor quite possibly made along the same lines as the Z5. The model number P945 is attached to a 5.7-inch display and you've got a couple of logos on the back that let us know that we'll be seeing this device on China Mobile first and foremost. The ZTE smartphone you see here works with an 8 megapixel camera on the back and has a single LED flash.
You'll also find that this device works with Dolby Digital Plus speaker technology and is able to blast your hands off if you turn it too loud – though that might just be an oversimplification of the situation. You'll be working with a standard headphone jack at the top, a microUSB port on the left, and a volume button on the right. The power button/ lock is up on top as well.
Inside this device which is being tipped as coming in with a sub-9mm thin body, you'll find a 3000 mAh battery and Android 4.0 "ICS or above", as the tipster speaking with the source does so say. We'll be expecting it to be in testing mode right now with ICS but that we'll see some form of Android 4.1 or 4.2 Jelly Bean by the time this ZTE machine is revealed for real.
Check the timeline below for more ZTE action as it's popped up extremely recently, and get ready for this device to appear at CES 2013, too! We shall see – the other option is that this beast will be popping up at MWC 2013 – both are quite possible.