ZTE GEEK marks first appearance of Intel's Z2580 SoC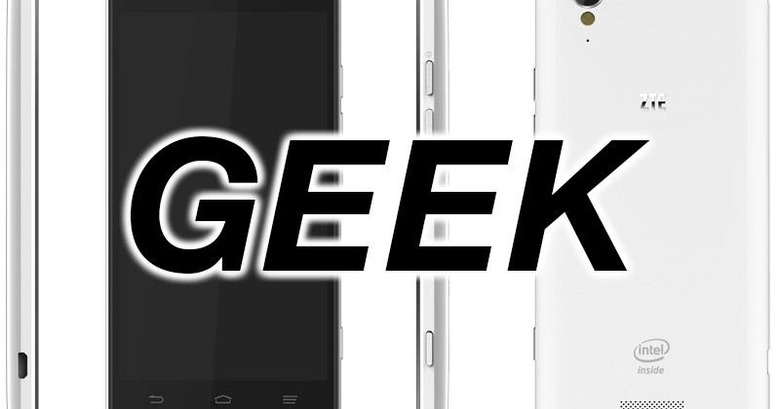 This week at the Intel Developer Forum in Beijing, China, the very first appearance of Intel's new 32nm Atom processor Z2580 has been unleashed in the comically named ZTE GEEK. While the geek name might not hold the same meaning for everyone around the world, the name alone makes us here at SlashGear want to own it – it's wild! This machine works with a massive 5-inch HD display with 1280 x 720 pixel resolution and Android 4.2 Jelly Bean under the hood.
This machine will have an undeniably strange combination of 8GB eMMC+1GBRAM. This means that while we're working with a next-generation processor, we've still got just half the RAM we'd have on the rest of the hero devices out there today. With 8GB of storage inside, you'll also be relying on this device's microSD card slot for storage of games and whatnot.
The back-facing camera here is 8 megapixels strong, the front is a small 1 megapixel, and you'll be kicking around a CPU frequency of 2.0Ghz – that's nothing to joke about! This device is being released with this generation's other ZTE devices like the Grand X IN (another Intel-based smartphone) and the ZTE V98 tablet. Have a peek at our ZTE tag portal for additional information on these devices.
Also have a peek at the timeline below to see the rest of the ZTE action we've covered over the past few weeks. Though most of these devices will not be reaching the USA, we're still pumped up about the possibility of getting them in with their beastly processors ready to take on the games and high-powered apps of today regardless. Keep on cruzing, ZTE!