ZTE Axon 11 5G wants to offer a mid-range option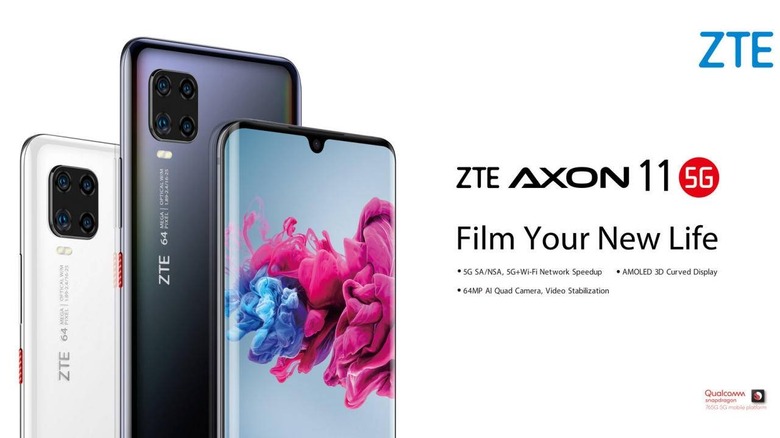 5G may be all the rage but those pushing for its mass adoption aren't exactly making it easy to get. Never mind how limited the coverage of 5G networks continues to be, which will now go even slower thanks to a virus pandemic. While devices that do support 5G are growing in number, they are also growing in price. For 5G to truly become widely adopted, 5G phones need to be more accessible to consumers, which is exactly the proposition that ZTE is making with the Axon 11 5G, at least for those who can actually buy and use it.
Unlike its predecessors, the ZTE Axon 11 can hardly be considered a premium flagship as far as specs are concerned. It is pretty much a mid-range handset, one powered by Qualcomm's new Snapdragon 765G. There's only 6GB or 8GB of RAM and 128GB or 256GB of storage inside this 6.47-inch FHD+ phone.
ZTE is positioning the Axon 11 as a pro vlogging tool, especially with its 64 megapixel "super HD" (whatever that means) camera, 8 megapixel wide-angle shooter, 2MP macro lens and 2MP depth sensor. That said, most vloggers actually use the front camera, which is only a 20MP sensor in a waterdrop notch.
Just based on the specs, the Axon 11 5G doesn't sound like it offers anything exciting other than that 5G capability. Where it undercuts competitors, however, is in the price tag, starting at 2,698 RMB, roughly $420. It's squarely a mid-range price for what looks like decent mid-range specs and that multi-channel 5G that carriers and manufacturers love to talk about.
Unfortunately for ZTE, it isn't the only game in this mid-range 5G market. HMD Global also just announced the Nokia 8.3 5G and though it comes with a higher 599 EUR ($650) price tag, it is also more easily available to markets outside of China.