If you've ever looked at your ordinary desktop computer and wished it was a bit rounder, Zotac's latest offering might prove appealing. The ZBOX Sphere is decidedly more sphere than box, featuring a plain black ball-like front and a port-toting square base.
Despite being in the ZBOX series, the Sphere has a design akin to its name, featuring a rounded front portion sans ports or markings. Around back, the Sphere has a square base and a flat back, where the various ports are located, as well as the fan vents.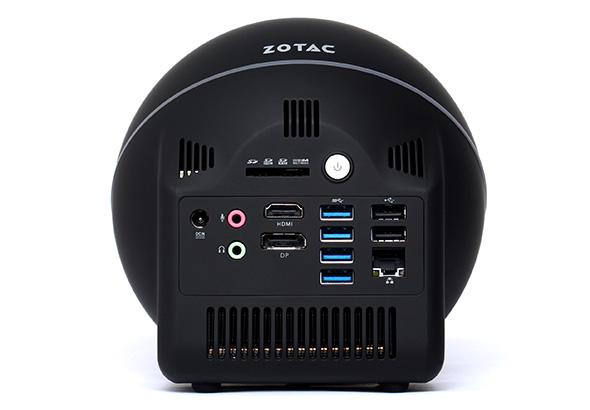 Inside of the Sphere, users will find an Intel Core i5-4200U 1.6GHz dual-core processor, with TurboBoost to 2.6Ghz being available. Graphics come by way of Intel Graphics 4400, and accompany 4GB of memory and a 500GB hard drive.
The memory and storage come with the Sphere PLUS model, with the regular Sphere OI520 being offered without either, making it more of a barebones desktop offering like many of its small-form-factor cousins. Regardless, both come with the same ports on the back.
There's HDMI and DisplayPort, as well as Gigabit Ethernet, four USB 3.0 ports, a couple USB 2.0 ports, and a 4-in-1 card reader. Connectivity is Bluetooth 4.0 and 802.11ac WiFi. Prices haven't yet been detailed.
SOURCE: HotHardware