Zotac Zbox R mini PC supports RAID 0 and 1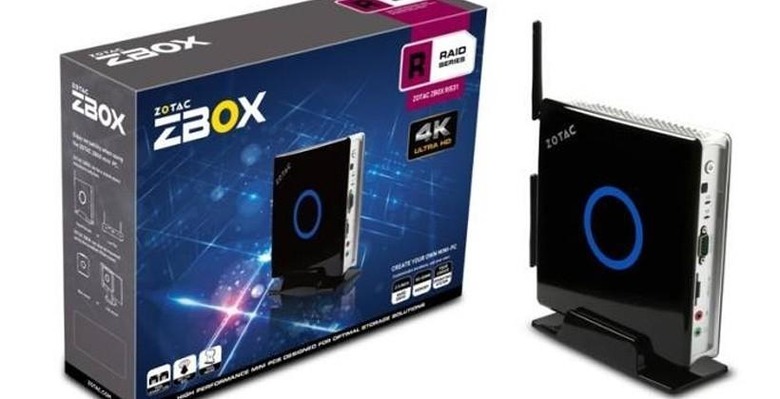 There are plenty of tiny mini PCs on the market today for folks that need a PC that takes up as little space as possible. Typically, these tiny PCs have very few features when it comes to connectivity and storage, but that's not the case with Zotac's latest. This machine is the Zotac Zbox R series and it has room inside for a pair of 2.5-inch drives.
Some models of the little PC also have a spot you can toss in a mSATA SSD as well giving these tiny form factor machines the ability to tuck three storage drives inside. With space for multiple drives also comes the ability to support RAID O and RAID 1 configurations. Those configurations allow the user to write data across multiple discs for better performance or duplicate data from one disk to the other to help protect data from drive failures.
At launch, Zotac has two models available with the Zbox RI531 and the Zbox RI323. The 531 model has an Intel Core i3-5010U Haswell processor with Intel HD 5500 graphics. That machine also sports Gigabit Ethernet, WiFi, Bluetooth 4.0, four USB 3.0 ports, and a memory card reader. Video outputs include HDMI and DisplayPort and the machine has two RAM slots. This model has an mSATA SSD slot and two 2.5-inch bays.
The 323 model has an Intel Celeron 2961Y Haswell processor, ditches the mSATA slot, and only comes in a barebones version. That 531 mode can be had in a Plus version that comes with 4GB of RAM and a 64GB mSATA SSD.
SOURCE: Liliputing