Zotac ZBOX PI220 and PI221 offer Windows 10 on a stick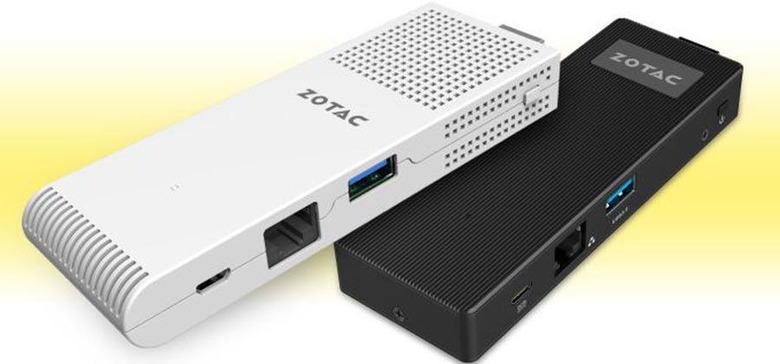 Zotac has a couple of new PCs-on-a-stick, the ZBOX PI220 and the PI221. Both of the sticks look the same, with only minor exceptions, measuring 5.2 x 1.7 x 0.62-inches in size. The big difference between the models is a fan — one has one, and the other doesn't — with the latter obviously being ideal for low-demand uses in places where you want quiet operation. Both models feature Intel Cherry Trail processors and more.
The ZBOX PI220 model has a so-called 'SmartFan' that keeps the device cool during operations, and it'll come in handy if you're cranking away at the hardware for a long period of time. If you're looking for something small and simple and passive-cooling is all you need, though, the PI221 model should do just fine.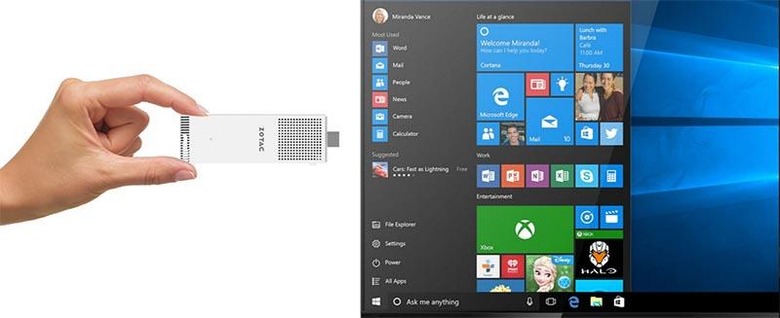 Both models feature the Intel Atom "Cherry Trail" x5-Z8300 processors alongside 2GB of memory and 32GB of internal storage space. Both are loaded with the 32-bit version of Windows 10, and can be connected to a monitor or a television using a regular-size HDMI cable.
Connectivity is available via both 802.11ac WiFi and 10/100 Ethernet, as well as a USB 3.0 port and Bluetooth 4.0. Additional storage can be added and accessed via a microSD card slot, while power is delivered through micro USB. Better WiFi is available by attaching an external antenna.
When the units will be available, and at what price, hasn't yet been stated.
SOURCE: Liliputing