ZOTAC ZBOX HD-ID11 Ion 2 nettop announced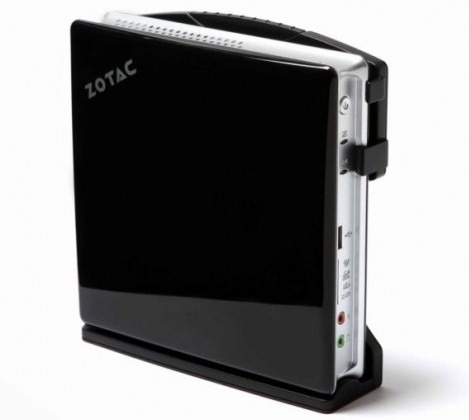 ZOTAC was among the OEMs named in NVIDIA's second-gen Ion launch earlier today, and the company has wasted no time getting a new nettop out in the open.  The ZOTAC ZBOX HD-ID11 pairs Ion with 512MB of its own dedicated DDR3 memory and an Intel Atom D510 1.66GHz dual core processor, all in something compact enough to hang off the back of your LCD display.
There's also a DDR2 RAM slot, 2.5-inch HDD bay and integrated WiFi 802.11n, while other connectivity includes HDMI and eSATA.  Altogether there are six USB 2.0 ports, together with DVI, gigabit ethernet, a 6-in-1 memory card reader and an optical digital audio output.
The Ion GPU itself is the 16 CUDA core chip, rather than the cut-down 8 core version intended for 10-inch netbooks.  No word on when we might see it launch nor for how much, however.
Press Release:
Next-Generation ZOTAC ZBOX Redefines Mini-PCs
New ZOTAC ZBOX HD-ID11 redefines mini-PC with next-generation NVIDIA® ION™ technology

HONG KONG – Mar. 2, 2010 – ZOTAC International, the world's largest channel manufacturer, today redefines the mini-PC experience with a new generation of eco friendly small form factor platform powered by next-generation NVIDIA® ION™ technology – the new ZOTAC ZBOX HD-ID11 mini-PC. The new ZOTAC ZBOX HD-ID11 mini-PC supercharges the eco friendly computing experience with premium graphics processing, complete high definition playback capabilities and a premium Windows® 7 experience with Aero® user interface.

Premium graphics processing power forms the heart of the ZOTAC ZBOX HD-ID11 mini-PC with a new Next-Generation NVIDIA® ION™ graphics processor with 16 unified shaders and 512MB of DDR3 graphics memory complete with NVIDIA® CUDA™ and NVIDIA® PureVideo™ HD technologies for a superior eco friendly computing experience that goes well beyond simple web browsing.

NVIDIA® CUDA™ technology harnesses the power of the NVIDIA® ION™ graphics processor in the ZOTAC ZBOX HD-ID11 to energize popular video processing and image editing applications for performance that dominates traditional CPUs. CUDA™ technology also enables support for DirectCompute and OpenCL powered applications on the ZOTAC ZBOX HD-ID11 for complete compatibility with general purpose GPU computing applications.

"Software companies took a big step in the last year to enable GPU-acceleration in their applications. Users can edit movies using Super LoiLoScope, enhance the quality of low-quality videos using vReveal and convert video files for use with portable media players using Badaboom with CUDA™ technology and our new ZOTAC ZBOX HD-ID11 mini-PC using just the graphics processor," said Carsten Berger, marketing director, ZOTAC International. "Just because the ZOTAC ZBOX HD-ID11 mini-PC is small in size doesn't mean it can't deliver big system performance.

The ZOTAC ZBOX HD-ID11 mini-PC offers robust high definition playback capabilities with GPU accelerated decoding of popular formats such as AVC, VC-1 and Blu-ray movie titles, dual-stream hardware acceleration for Blu-ray picture-in-picture extra features, dynamic contrast and color stretch for spectacular picture clarity, and other visual enhancing post-processing and features thanks to NVIDIA® PureVideo™ HD technology. GPU acceleration is just the beginning of the high definition playback capabilities of the ZOTAC ZBOX HD-ID11 mini-PC.

Streaming high definition Internet video on popular sites such as YouTube™, Vimeo™ and Hulu™ render smoothly and flawlessly in full screen with the ZOTAC ZBOX HD-ID11 and Adobe® Flash® Player 10.1. Video stuttering is a faint thought of the past with the ZOTAC ZBOX HD-ID11 with NVIDIA® ION™ graphics technology.

HDMI 1.3a connectivity ensures the ZOTAC ZBOX HD-ID11 can connect to the latest monitors and televisions with the best visual quality available and support the latest technologies such as xvYCC Color, Deep color and high-resolution 7.1-channel digital surround sound. New xvYCC Color and Deep color technologies enable a wider range of colors and higher bit depths up to 48-bit color when connecting the ZOTAC ZBOX HD-ID11 to compatible displays for richer colors and greater details.

"The ZOTAC ZBOX HD-ID11 mini-PC is perfect for home theater PC use as well daily usage. Watching high-definition movies with premium audio tracks is a rewarding experience with the ZOTAC ZBOX HD-ID11 mini-PC." Mr. Berger said. "The amount of clarity high-resolution 7.1-channel digital surround sound audio brings to the experience is phenomenal and can't be put into words."

The ZOTAC ZBOX HD-ID11 mini-PCs deliver a premium Windows® 7 experience with Aero® user interface with the NVIDIA® ION™ graphics processor. Windows® 7 features such as Aero® peek, Aero® shake and GPU accelerated media transcoding is fully supported by the ZOTAC ZBOX HD-ID11 for a fully featured premium eco friendly computing experience.

Behind the powerful NVIDIA® ION™ graphics in the ZOTAC ZBOX HD-ID11 and is an energy-efficient Intel® Atom™ processor with Intel® HyperThreading technology. A dual-core Intel® Atom D510 powers the ZOTAC ZBOX HD-ID11 for a powerful combination that delivers unrivaled performance and energy-efficiency.

Customizing the internals of the ZOTAC ZBOX HD-ID11 mini-PC is quick and easy for end users with a new tool-less case design. Users can simply remove two thumb screws to access the internals of the ZOTAC ZBOX HD-ID11 mini-PC and master the mini-PC with ease.

"We designed the ZOTAC ZBOX HD-ID11 with our end users in mind. With the new ZOTAC ZBOX HD-ID11 and HD-IS11, users can equip the mini-PC with components of their choice," Mr. Berger said.

Internal expansion inside the ZOTAC ZBOX HD-ID11 include space for a single 2.5-inch hard drive and one 200-pin DDR2 SODIMM slot. Greater expansion is achievable externally via six USB 2.0 ports, one eSATA 3.0 Gb/s port and a 6-in-1 memory card reader capable of reading SD, SDHC, MMC, MS, MS Pro and xD memory cards for limitless expansion capabilities.

It's time to play with the ZOTAC ZBOX HD-ID11 with Next-Generation NVIDIA® ION™ technology.

General details

New ZOTAC ZBOX HD-ID11

Next-Generation NVIDIA® ION™ platform

NVIDIA® CUDA™ technology

NVIDIA® PureVideo™ HD technology

Intel® NM10 Express chipset

Intel® HyperThreading technology

ZOTAC ZBOX HD-ID11

Intel® Atom™ D510

Dual-core

1.66 GHz (667 MHz front-side bus)

Tool-less case design

VESA monitor mount included

HDMI (1080p) & Dual-link DVI outputs

HDMI 1.3a compliant

xvYCC Color and Deep Color support

HDCP compliant

Microsoft® DirectCompute ready

Adobe® Flash® Player 10.1 decode acceleration

OpenCL compliant

Gigabit Ethernet

Onboard 802.11n WiFi

Microsoft® DirectX® 10.1 with Shader Model 4.1 compatible

OpenGL® 3.2 compatible

Microsoft® Windows® 7 with premium Aero® user interface ready