Zotac VR Go backpack PC is now available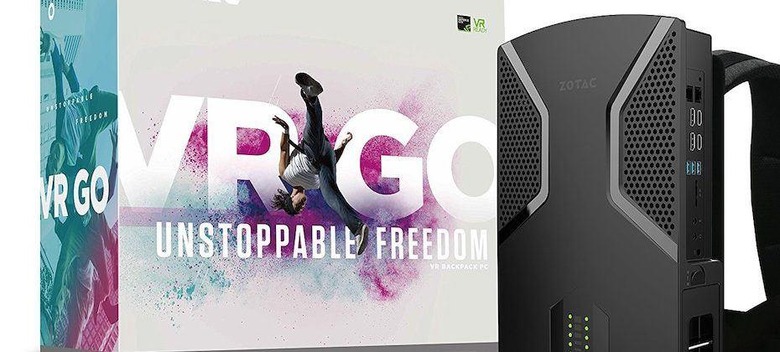 A while back, PC-maker Zotac unveiled its VR Go backpack system, a small-form gaming computer that allows users to experience untethered virtual reality when paired with headsets like the Oulus Rift or HTC Vive. The good news is that the PC is available starting today, but the bad news is that it will cost you $2,000 without any customizations, and that's on top of the VR headset you need to already own.
While the idea of wearing a PC on your back may sound a little ridiculous, until wireless technology can be fully paired with VR headsets it's the best way to experience room-scale VR with true freedom of movement. And the Zotac VR Go is a pretty powerful little system: it's powered by a Nvidia GTX 1070 graphics card, quad-core 2.8 GHz Intel Skylake Core i7 processor, 16GB of RAM, and a 240GB M.2 SSD.
But the most important spec at this point is battery life, because without it you won't be playing for very long. Fortunately Zotac has managed to squeeze a full two-hour battery life per charge. This is improved by the fact that batteries can be quickly hot-swapped out, allowing users to get back into VR.
Both RAM and storage can be upgraded at any time, and connectivity options include three HDMI 2.0 ports, two DisplayPorts, six USB 3.0 ports, SD card reader, and two Gigabit Ethernet ports. The VR Go weighs roughly 10 pounds, but comes with a foam-padded back support and nylon straps for the shoulders, waist, and chest.