ZOTAC offers world's first ION graphics upgrade kit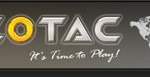 When NVIDIA pulled the wraps of the next-generation ION platform earlier this month, we knew discrete cards for upgrading computers were coming. ZOTAC has announced what it claims to be the world's first ION Upgrade kits.
The kit includes a ZOTAC SFF motherboard with a ION GPU built-in. the ION graphics card has 16 unified shaders and 512MB of DDR3 memory. It supports CUDA, PureVideo HD, DirectX 10.1, DirectComputer, OpenGL, and OpenCL.
The core clock for the GPU is 589MHz, the shader clock is 1402MHz, and the memory clock is 790MHz. The card slips into PCI Express x1 slots and should make for a nice upgrade for a small HTPC. Outputs include DVI, HDMI, and VGA with an optional bracket. Pricing and availability are unannounced at this time.