Zoom H6 Handy Recorder released in US, offers 6-track recording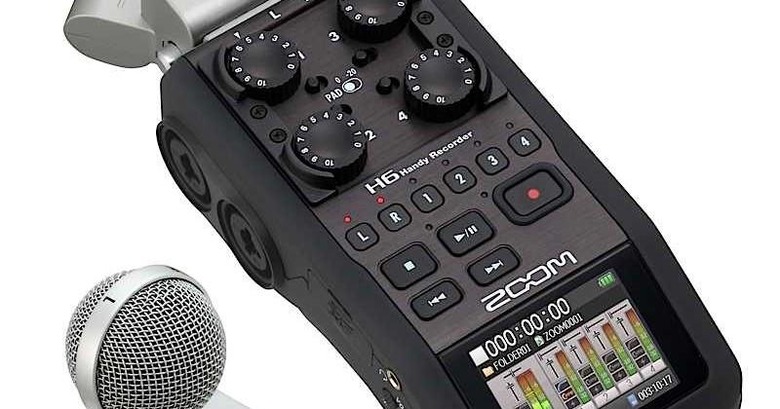 Anyone who dabbles with video production will have heard the same old adage: viewers can forgive poor-ish video, but poor audio will ruin your content. As such, the average integrated microphone and pocket-sized portables aren't suitable for certain users, but bulky high-end audio recorders aren't suitable for certain filming situations. Such is the market where Zoom's H6 Handy Recorder is aimed.
The H6 was unveiled last month, and is now officially available for purchase. Says Zoom, this device is the "most advanced portable recorder" ever, and with it comes several features including six-track recording, which allows users to record up to six tracks of audio at the same time. In addition, the H6 also offers interchangeable microphones and four input capsules.
The four input capsules are comprised of one stereo X/Y and mid-side, a shotgun, and a dual-XLR/TRS combination, the latter of which won't be available until some time later this year. There's a "large" display as well for viewing levels and such, as well as the ability to be fixed onto a camera or carried around on a strap (as opposed to being carried in one's hand, which it is small enough for).
Audio can be saved in 24-bit/96k audio files, with both WAV and MP3 file formats being offered. Data is saved to SD, SDHC, or SDXC cards, with the H6 supporting up to 128GB. There's a control pad with voltage, gain control, and a pad switch. Line Out is available for cameras, there's a headphone jack for listening to audio, and a USB port for data transfer.
Said Zoom's Vice President of Sales and Strategic Planning Scott Hagen: "The H6 brings a completely new level of performance and possibilities to audio recording. The H6 can put premium recording equipment in the hands of anyone." The recorder is available now from various retailers both online and in-store for $399.99 USD.
SOURCE: Engadget