Zoom H5 Handy Recorder Takes Studio Sound Mobile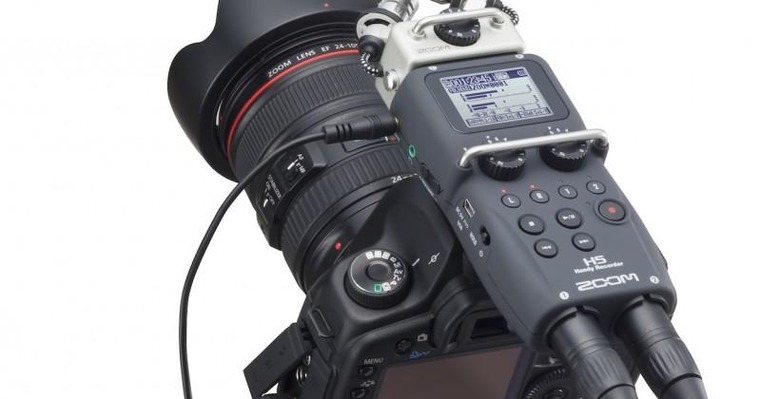 Zoom has outed its latest portable multitrack, the H5 Handy Recorder, offering studio-level audio capture that can be mounted straight on top of a DSLR and supports interchangeable microphones for matching sound to scene. Running off a couple of AA batteries, the AA has both integrated microphones and dual XLR/TRS jacks for external mics as well as line-level inputs for its four-track recording.
Each input has a dedicated gain control and pad, and can optionally supply phantom power at a choice of three voltages. Zoom says battery life is up to fifteen hours, though that will depend on what power it needs to supply to external mics.
Like the Zoom H6 before it, the new H5 has an interchangeable capsule system which means different microphones can be snapped into place. That allows the portable recorder to suit different audio conditions.
There's also a line-out for hooking up to your camera's audio input, as well as a headphone jack and integrated speaker for monitoring and review. Zoom has squeezed in a set of effects, too, along with a metronome and chromatic tuner.
Pitch and playback speed can be adjusted, and there's pre-record, auto-record, and backup-record. Files are stored on an SD/SDHC card of up to 32GB; you can transfer them via the USB port, but plugging it into your computer or iPad – the latter via the Camera Connection Kit – also turns the H5 into an audio interface.
As standard, the H5 comes with an XYH-5 X/Y microphone capsule that has a pair of condenser mics at 90-degree angles, and can cope with up to 140 dB SPL. In fact, Zoom says it's the best of the company's line-up for handling loud sounds, whether they be at a concert or the sound of jet aircraft taking off.
The Zoom H5 goes on sale in June, priced at $269.99.
SOURCE Zoom