Zolt Laptop Charger Plus charges multiple devices at once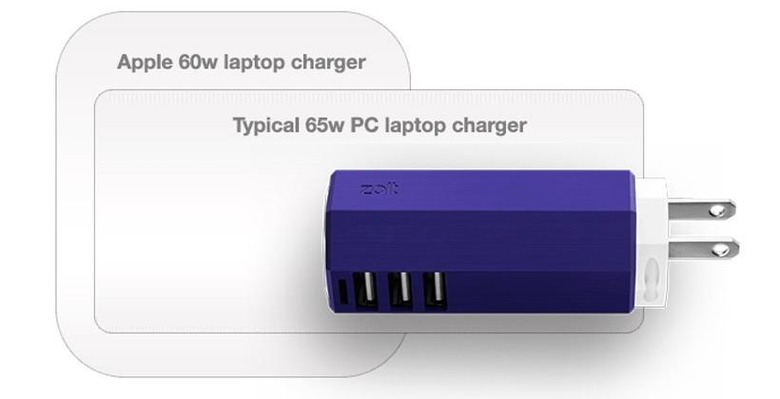 A company called Zolt has rolled out a new laptop charger that it claims to be the world's smallest and lightest laptop charger. The new laptop charger was unveiled at CES 2015 this week and is called the Zolt Laptop Charger Plus. The key feature of the Zolt charger is that in addition to charging your laptop it has USB ports built in that allow it to charge multiple gadgets at the same time such as your laptop, smartphone, and tablet.
Zolt's charger produces 70W of power and is compatible with a number of popular brands of notebook computers on the market today. The charger claims to be four times smaller and three times lighter than current laptop chargers. It is three inches long and weighs three ounces making it easy to carry with you on the go.
Zolt equips the charger with Efficient Resonant Control or ERCTM technology that automatically regulates power to each connected mobile device for fast charging and long battery life. It has three integrated USB ports and 90-degree rotatable prongs built-in.
Those rotating prongs allow you to fit the charger into an outlet at the most convenient angle possible. The Zolt is offered in purple, red, or grey colors and comes with one 6-foot laptop charging cable, seven interchangeable tips to fit different notebooks, and a travel pouch. The charger is up for pre-order for $79.99. The exact shipping date is unknown.
SOURCE: Zolt