Zhor-Tech self-lacing smart shoes hands-on: one-upping Marty McFly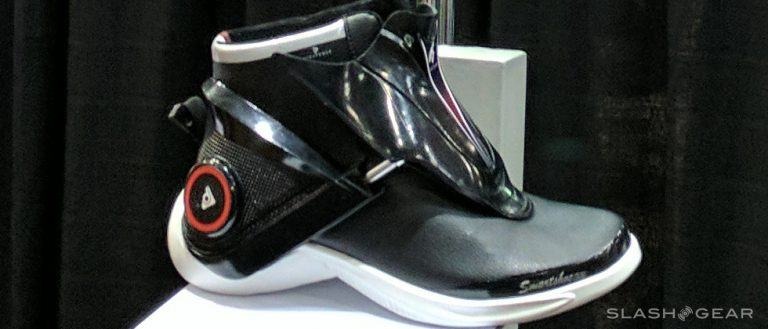 This week we're having a look at a pair of smart shoes that take the Nike MAG (Back to the Future self-lacing shoes) to a new level. These have nothing to do with Nike, nor are they to be mistaken for any other official Back to the Future technology. According to the folks representing this shoe, Zhor-Tech, the real challenge in creating a shoe like this is mixing electronic knowhow with footwear – dust, shocks, humidity – and of course wireless electronic lacing.
These shoes do several things with a Bluetooth connection to one's own smartphone – iOS or Android. First, they track steps – accurately, because they're literally on your feet. No more of this bouncing-to-track nonsense.
Next, with the help of step tracking and distance tracking, these shoes allow the wearer to "track fatigue". Through the app, notifications will show when steps plus distance equal fatigue. The user might be better at telling when they're getting tired, but the app is much less forgiving in suggesting that a slowing pace means one should rest.
An embedded smart heating system allows this pair of shoes to keep the user warm when walking long distances. Obviously these shoes don't look the part, but the company intends them to be used as boots, believe it or not. You'll be the most unique-looking snowbound hiker on the mountain!
The self-lacing bit is more of a self-tightening bit of technology. There are no laces required as such. To make this happen, both shoes require a battery. While a battery for hardware this large usually means added weight, these shoes remain relatively light – no heavier than any other boot of this size, I'd say given my momentary lift test.
The model we're looking at here is currently looking for distribution internationally. Zhor-Tech seems to be more about licensing their technology than they are selling their own shoes – so we're going to cross our fingers for ADIDAS or DC. Of course they'd never suggest such a thing – so we'll just have to wait and see.