Zepp 3D motion sensor helps improve tennis, baseball, and golf swings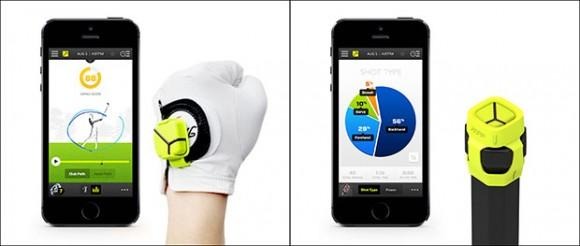 There are sensors on the market that are designed specifically to help golfers improve their swing. Earlier this year we mentioned one called the GolfSense designed specifically to interface with your smartphone help you get better at golf. A new product has surfaced from a company called Zepp Labs with versions designed to help golfers, baseball players, and tennis players.
The Zepp Sports Platform is a multi-sports sensor that interfaces with three different apps for one of those three specific sports. The company claims that this is the "first time in history" the people are able to capture and analyze 3-D swing data on a smartphone or tablet. However, the data the Zepp sensor captures looks very much like what GolfSense captures, so take that claim with a grain of salt.
The Zepp 3D motion sensor is a one-inch square that's less than half an inch thick with a weight of 6.3 g. The sensor is small enough that users are unlikely to notice it while playing. The device has a rubber exterior and shock resistant interior making it it durable so it can withstand abuse on your sporting field of choice.
Inside the sensor has an ARM processor, multiple motion sensors, and can store data for up to 200,000 swings for tennis players and up to 2000 swings for baseball players or golfers. The device uses a rechargeable battery that's good for up to eight hours of play. The sensor captures 1000 data points per second and shoots the data over to a smartphone or tablet using Bluetooth connectivity.
The Zepp Baseball is designed to be connected to a handle of a baseball or softball bat. The Zepp Golf device is worn on a glove, while the Zepp Tennis sensor is designed to be mounted on a tennis racket. All of the sensors are compatible with the iPhone, iPad, and Android devices. The sensors will ship in November for $149.99.
SOURCE: Engadget