Zenum's New Opus Opteris: Another Blackberry & Motorola Q killer?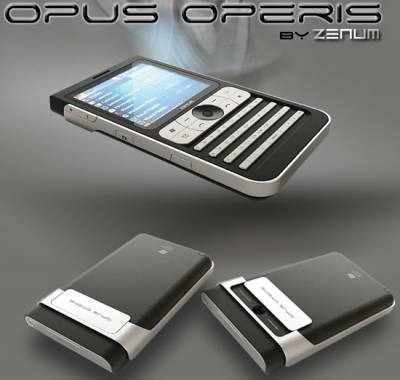 Don't hold your breath for Zenum's supposedly new Opus Opteris Pocket PC Smartphone, because it might simply be vaporware.  Jaren Goh designed this new handset; the same dude that did the rendering for the Sony Ericsson Black Diamond phone that cost $300,000.  If all holds true, we should see a release date near November of this year.
The Zenum is sexy and it's packing lots of features such as Windows Mobile 5 Pocket C edition, meaning it's going to sport a 2.5-inch landscape-mounted QVGA touch screen.  Expect a 2-megapixel camera, WiFi (802.11g), Bluetooth, A2DP, miniSD expansion slot, 128MB of ROM, 64MB of RAM, and QWERTY keyboard.
On the downside, the Opus Opteris only supports 900/1800/1900 MHz GSM, lacking support for GSM 850 and EDGE.  The keyboard looks like it may be slightly difficult to use, but I don't mind it one iota – so as long as it has one!
Thin and sexy is in baby, there's no going back to a bulky smartphone.Zenum [via CrunchGear & Pocket PC Thoughts]