Zeiss VR One Plus VR headset works with just about any smartphone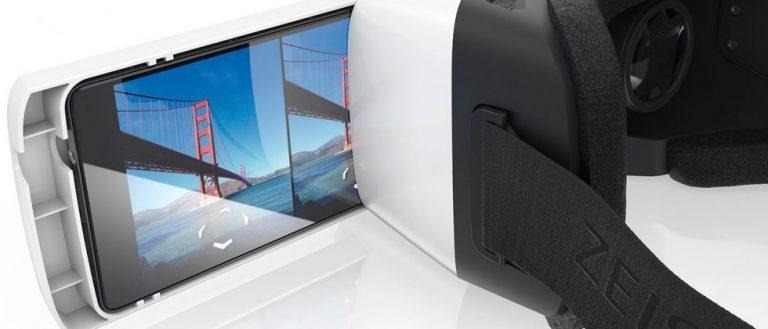 One of the drawbacks to the original Zeiss VR One headset was that the device's design limited what smartphones it could be used with. That limitation has been removed with an updated version called the Zeiss VR One Plus that has debuted at E3 this year. The new VR One Plus has the same ergonomics, material quality, and precision optics as the original with notable updates.
The most notable of those updates is a new universal smartphone tray that will work with any iOS or Android smartphone with screen measuring between 4.7 and 5.5-inches. That means it will work with the iPhone 6/6s and the iPhone 6 Plus. The head strap is removable on the new device to allow wearers to configure the device depending on what they plan to do with it.
Along with the updated VR headset, Zeiss is also showing off some new content including a hidden object game that goes along with the flick "Now you See Me 2." The new headset also has integration with the DJI Inspire 1 to give views from the done in VR. Zeiss also partnered with Dacuda for room-scale VR while sitting or standing using your smartphone.
Zeiss notes that the VR One Plus will launch in August. We don't know some key details on the new VR headset like price or exact launch date. Presumably, it will be similar in price to the original Zeiss VR One headset, which was surprisingly affordable at $129. That original headset required you to buy trays to fit your smartphone exactly. The universal tray of the new design should make the headset more appealing to those who frequently upgrade hardware.
"The VR landscape has changed significantly since we launched the VR ONE in 2014," said Franz Troppenhagan, Senior Product Manager at ZEISS. "The new VR ONE Plus VR headset addresses feedback we received from thousands of VR ONE users. It also meets the demands of an evolving VR industry and new platforms for immersive and interactive VR, such as Google Daydream."
UPDATE: Google says that the Zeiss VR One Plus is "not Daydream compatible. It has never been certified by [Google]. We're working with them to issue a correction."
SOURCE: VR One