zBoost cuts price of YX230 cellular signal booster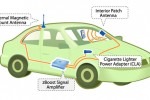 For many of us the strength of our cellular signals is not that great. If you live in an area with lots of hills, trees, or an area that is mostly rural your signal is probably even worse. The zBoost YX230 signal booster has been available for a while now and promises to improve cellular reception.
The device originally debuted at $299 and has now been decreased 40% to $179. The manufacturer says that the cost savings is due to a cheaper manufacturing process now used. The device promises to reduce dropped calls and doesn't require the user to plug their phone into it.
The zBoost device works on TX frequencies 824 to 849 MHz, 1850 – 19010 MHz, and RX frequencies 869-894 MHz and 1930-1990 MHz. The antenna has an external antenna mount and interior patch antenna is included as well. Power for the system is via 12V DC.