Yuneec's newest Typhoon drone features 4K, 30fps HD video capture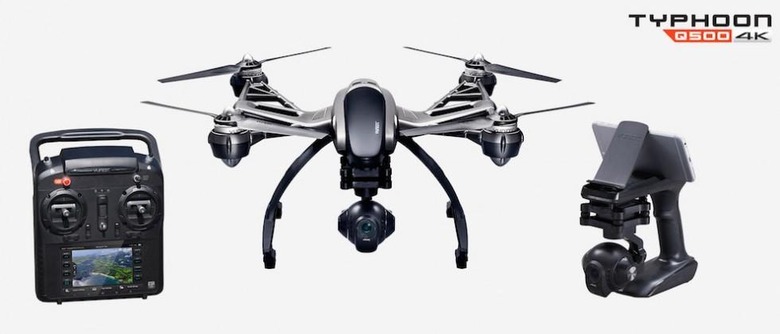 California-based Yuneec has just announced the newest addition to their Typhoon line of personal-use drones: the Typhoon Q500 4K. As you can imagine, the flagship features of this model include a camera capable of 4K video recording and 12MB still images. The drone's flight controller, which allows both experienced and beginner pilots to operate the UAV with ease, also has a built-in 5.5-inch touchscreen powered by Android software. This screen displays the camera's view in real-time, and lets users make adjustments to settings like light exposure, ISO, and shutter speed.
The drone uses a CGO3 gimbal camera with 3-axis movement and anti-vibration capabilities. In addition to 4K/30fps video, users can shoot video in slow motion with 1080p/120fps, as well as take photos in RAW or jpeg formats at the same time as recording video.
Also useful about the Typhoon Q500 4K is that the camera can be detached from the drone itself and put on the Steady Grip handheld unit, letting users record video on the ground with the same smoothness as in the air. Instead of relying on the flight controller during this situation, users can mount their smartphone to the Steady Grip and control the camera's function via a downloadable app.
The Typhoon 4K is capable of up to 25 minutes of flight time, and is nearly ready to fly out of the box. Users only need to twist on the drone's propellers and attach the battery before turning it on. Yuneec says the drone is priced at $1299, and should be available for purchase now.
SOURCE Yuneec