Drone-maker Yuneec is well-known for its high-end, quality UAVs, yet it continues to remain in the shadow of DJI, the professional drone market's current leader. However, that could soon change, as Yuneec has just announced their Typhoon H, a threat to DJI's top of the line, $3,000 Inspire 1, yet with a price that's one-thirds cheaper. The Typhoon H promises the same professional-level performance, along a few of its own unique features.
Yuneec's newest drone boasts of six rotors, retractable legs, and a camera gimbal that can rotate 360 degrees. The company says that the six rotors will allow the drone to continue to fly, remain stable, and land in the event two rotors are damaged, while the 360-degree pan capability means users can film in one direction while flying in another.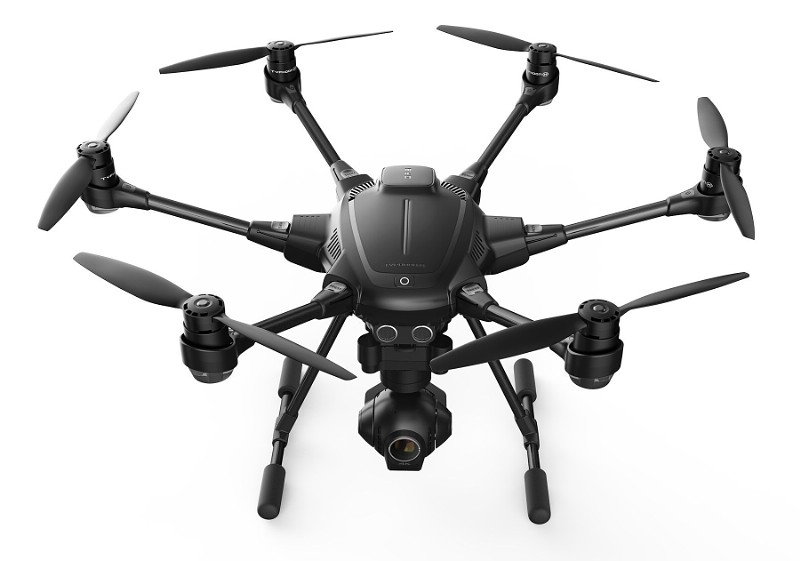 The Typhoon H is piloted with an Android-powered controller that features physical joysticks. Filmmakers will be pleased to hear of the autonomous flying modes, which include Orbit, Point of Interest, Curved Cable, and Journey. There's also an option to add an Intel RealSense camera, which has the drone detecting and avoiding obstacles before collisions occur.
The comparisons with DJI's Inspire 1 continue in that the Typhoon H is also capable of shooting 4K video and 12-megapixels stills, however Yuneec's offering will be priced at $1,800, making it a bit more attractive to those wanting a pro-level drone for a more mid-range price.
SOURCE Yuneec