Yuneec Breeze FPV camera drone gets livestreaming support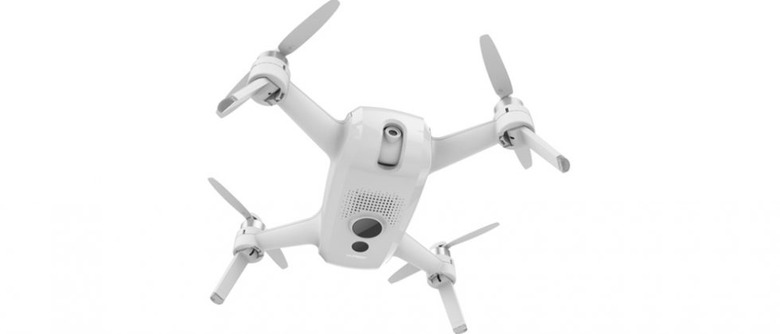 Yuneec Breeze, the camera drone with a relatively unique first-person-view system, has announced new support for livestreaming video. With this, users are able to livestream their drone's activities on certain popular platforms including Facebook and YouTube, greatly increasing the drone's usefulness for the average user. The livestreaming feature has arrived in the iOS and Android apps, among other things.
The consumer drone market is hot right now, and arguably chief among all such drones are those equipped with cameras, enabling users to capture photos and videos of themselves in ways not possible with an ordinary smartphone. Yuneec Breeze offers a feature still somewhat rare on drones of this caliber — a first-person-view system that enables the operator to see what the drone sees via its integrated camera and a related face mask.
The entire setup is similar to an ordinary VR headset and controller, only the 'game' is real life and everything you're seeing is reality. The FPV system includes a face mask that looks similar to a VR headset and a controller to which the smartphone with the Yuneec Breeze's app can be connected. Operators control the drone using the controller, which is styled to resemble a regular game controller.
Drone owners will see the Breeze app update automatically with the new features, assuming the user hasn't disabled automatic updates. Alternatively, the latest versions can be download from the iTunes and Google Play stores. Once updated, users will be able to livestream video in 720p resolution, interact with the audience watching their videos, and utilize RTMP. The app update also brings livestreaming naming, audio recording, and video recording features.