YouTube Updates Interface For Mobile Website And Android Tablet Users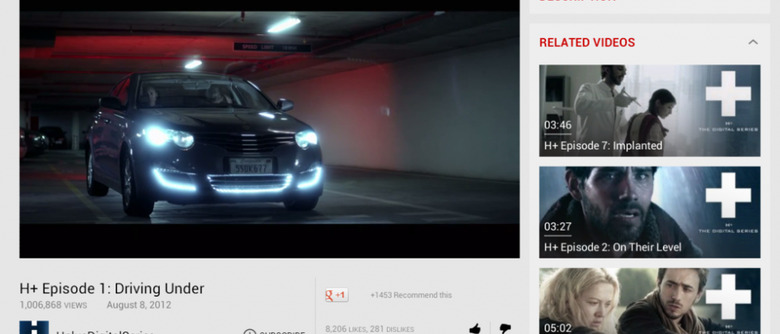 YouTube has been quite the busy website lately, having rolled out a new interface and penned a deal with Virgin America within the span of a few days. Now the video hosting service has announced its newest offering: an updated interface for its mobile website and Android app. Users can nab the updated app now from the Google Play Store.
According to YouTube's Google+ profile, the updated Android app offers a "refeshed YouTube experience including a Guide that provides easy access to your favorite channels and ways to discover new ones." The updated user interface is only available for tablets with 10-inch displays. In addition to the UI revamp, the new app also includes some bug fixes that have been implemented for all mobile devices, not just tablets.
For those who prefer accessing YouTube via the mobile m.youtube.com site instead of the service's app, YouTube has also rolled out a new interface on the mobile version of its website. The updated mobile UI looks very similar to the updated interface rolled out for the full desktop browser variety of the site. As with the new Android app, users will have easier controls and Guide.
Thus far, reviews have been mixed, with some users reporting that the update is excellent and others claiming to experience a variety of issues, such as lagging or deficiencies in the usability of the new interface. Have you downloaded the new Android app or checked out the mobile site from your tablet? Let us know your thoughts!
[via Google+]