YouTube Slam is like battle of the videos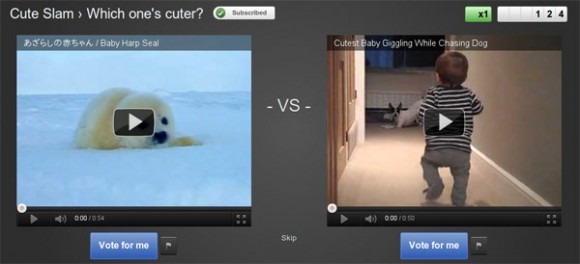 YouTube is the place that hoards of people go to find videos of whatever they are into at a particular time. Some of the videos end up going viral because they are cute or weird or for a variety of other reasons. Those viral videos can rack up huge numbers of viewers as well. YouTube has rolled out a new video experiment that it calls YouTube Slam.
Slam pits two videos against each other and allows the users to vote for which video they think is the best in several categories. Slam has several categories of videos including comedy, cute, music, bizarre, and dance. Whoever the ultimate winner of the Slam turns out to be is featured on the leader board. The system also lets the voters earn points for predicting which video will be the most popular with the hoard.

At the end of the week, players will be able to see how they measure up to the other people predicting the most popular videos. Users can subscribe to the Slam channels. This is something that YouTube cooked up with the help of Google Research.